Can we eat a lot of EGGS !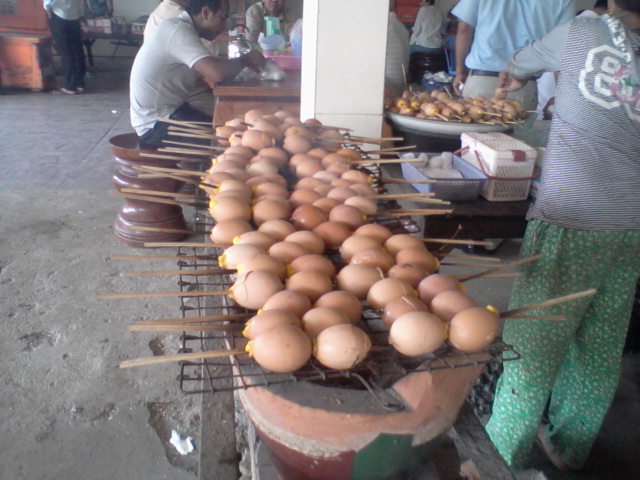 June 2, 2016 9:09am CST
Some say you don't eat a lot of eggs, hard for digestion ? Me no idea and you too ! What you know about EGGs But in some country, they enjoy eating eggs everyday. Every where , any time you can see people here enjoy eggs. I just can't take it ! Picture in Cambodia
10 responses

•
3 Jun 16
i love to eat eggs but i only eat one, i cannot eat morethan one

•
4 Jun 16
Why any reason or you just have a small pot lo

•
4 Jun 16
@Chungshop
i dont know why, but i cannot eat over two

•
4 Jun 16
@itsmejing
True something beyond our imagination, and we just don't know why. No reason.

• Davao, Philippines
2 Jun 16
Last year, my Doctor required me to eat eggs everyday to prevent me from water retention but only the white of the egg. Every breakfast I have it friend, then scrambled for lunch and boiled for my dinner. It happens for one month. Sometimes I vomit because of my taste buds reaction. So far I like eggs.


•
3 Jun 16
Hope you're alright now. Take good care of yourself, eat what you like, but not too often lo. Sometimes our body desire or our desire to eat some food but doctor say is no good. Little consumption may lo


• Davao, Philippines
3 Jun 16
@Chungshop
That was a long time ago. I seldom have eggs in a day. It really help me not to have water retention.

• New Delhi, India
2 Jun 16
Once I read a recipe dish name "Mexican omelette" it was prepared with 22eggs, yesterday on mylot I asked a person who was from Mexico about this recipe but he doesn't know anything about it.

•
2 Jun 16
These are all add in egg after boiling and put over the fire Some eat 4 or more lo

• New Delhi, India
2 Jun 16

• Singapore
8 Jun 16
They have high activity level. if I were to do manual work like them, I can eat 6 eggs a day without any problem! Too bad many of us work in office, so we have to cut down on the consumption of eggs, or else we will have high cholesterol problem.

•
3 Jun 16
Yes I think so , anything is too many or too much is wasted lo

•
2 Jun 16
The most I take is 4 lo , two boiled eat with black sauce, fry 1 with onion, then 1 inside the soup lo

• United States
2 Jun 16
Eaten in moderation, sure. Too much protein is just too much protein.

• United States
22 Aug 16
I try to stay with only one egg a day because of my high cholesterol, although eggs are much healthier than previously thought.

• Philippines
20 Jun 16
I like eating eggs but not everyday though.

• Philippines
4 Jun 16
Before I eat lot of eggs but after that, it made me not comfortable, my head start getting hurt.. starting that day I only eat few eggs