Malta Lights up my Day!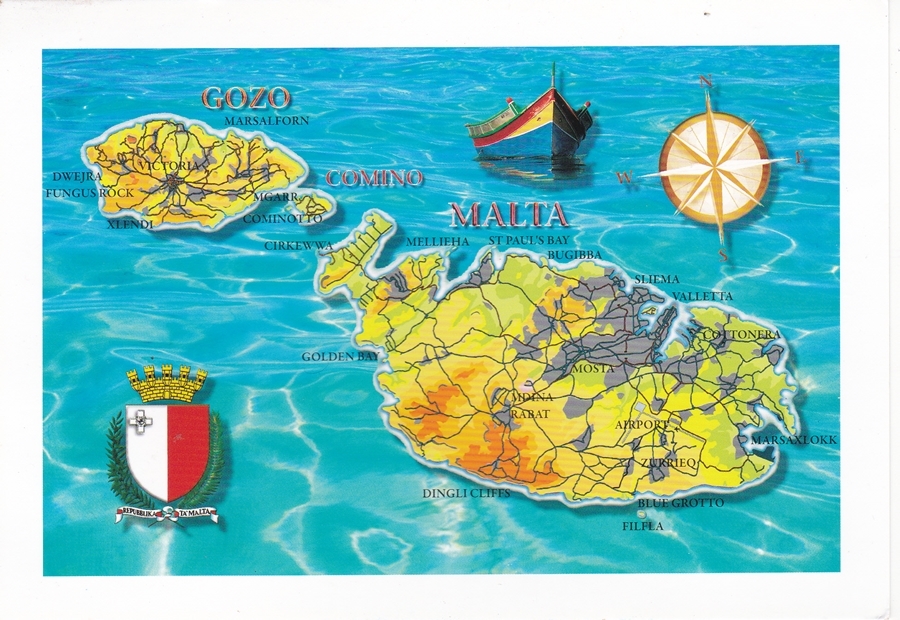 South Africa
June 2, 2016 12:03pm CST
The long awaited greeting and a first from Malta for me, arrived today! How wonderful that people are still keen to give you a thought in snail mail, sending postcards from such wonderful travel destination, with beautiful stamps. I feel very special as I know many other people feel that way too. Thank you Barry for your efforts and just for sending me this lovely card from your holiday in Malta. Did you know: ~Malta is one of Europe's smallest countries? ~They drive on the left. (Like we do) ~The Brits ruled Malta until 1964, when it became independent. ~It's a walkers paradise, with numerous tours to take visitors along the coastline of Malta and Gozo, I have already earmarked it for a visit - Hopefully before I'm too old! ~ Hagar Qim, which dates back some 5,000 years, is the best preserved ancient limestone temple on Malta. AMAZING! I hope you all like my postcard with a little information on the beautiful place of Malta. Its on my bucket list too!
10 responses

• Germany
2 Jun 16
I haven't been to Malta but I knew nearly all the facts. After all, it's a European country. I think, only San Marino and the Vatican are smaller. From the photos I've seen, I know that the streets are very steep. I don't know how Maltese with heart conditions walk through the towns.


• Garden Grove, California
2 Jun 16
It sounds like a lovely place to visit I always wanted to travel and see Malta for myself and perhaps one day I may.. t

• United States
2 Jun 16
i can see why such'd be so :) i fear my days'f wantin' to travel've passed. gettin' postcards from far'way places'd be jest the ticket fer me. most fascinatin' that the limestone's stood through the test'f time. 'round here, such melts, lol.


• Manchester, England
2 Jun 16
It can be enjoyable looking around for appropriate postcards, which I had not done for decades until recently. This was always an integral part of a holiday in the past, which many of us forgot due to social media and email.

• South Africa
2 Jun 16
@Asylum
I know - I have noticed many a small place have no postcards anymore, i noticed that in Botswana as well - like they dont believe the tourist still post snail mail. Well I think its marvelous to be able to still do this and I send to anyone that likes the idea.


• Centralia, Missouri
3 Jun 16
so many places to travel too, so little money to travel with