An apple a day keeps the doctor away ?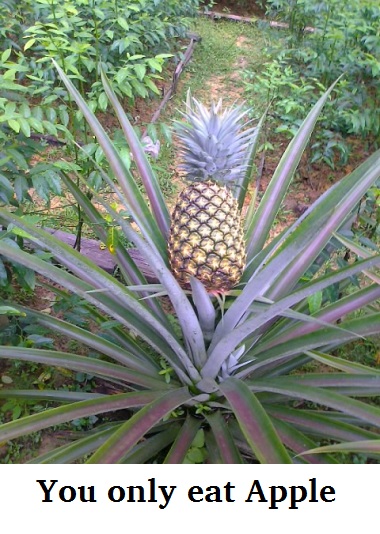 June 3, 2016 7:09am CST
An apple a day keeps the doctor away Will an apple a day keep the doctor away? I don't have apple now, but I have another apple called pineapple. Harvest time after 1 years let eat pineapple now. Before I eat I better Google first. Life without Google I don;t know how!


What are the health benefits of pineapple? One cup of fresh pineapple chunks contain approximately 82 calories, 0 grams of fat, 0 grams of cholesterol, 2 milligrams of sodium, 22 grams of total carbohydrate (including 16 grams of sugar and 2.3 grams of fiber) and 1 gram of protein. Fresh pineapple is the only known source of an enzyme called bromelain.
7 responses


•
3 Jun 16
O I don't drink, I cut fresh pineapple from the farm with sauce and chili lo. (Price RM 10
@
) We wait till the pineapple turn yellow



• Singapore
3 Jun 16
@Chungshop
I am too lazy to cut. I rather buy those juices, or else I will buy the pineapple, and let someone does the cutting.

•
3 Jun 16
@scheng1
A tip for you. Don't wash the pineapple in water after removing the skin. Cause throat itchy. Some seller when they cut the pineapple and get dirty they may wash it, so its not this pineapple no good. Is the reaction of water and the fresh that may cause throat itchy. That's why I don't buy with them lo


• Philippines
4 Jun 16
An apple a day keeps the doctor to come to you to eat your apple

. Kidding aside, your right, pineapple has a lot of health benefits. But I seldom eat pineapples for I have hyper acidity.

•
4 Jun 16
O I thought a piece of pineapple may help stomach acid reflux lo



•
3 Jun 16
All good fruits are good nor matter big or small lo Apple is my doctor also and I like red mango then green apple


•
3 Jun 16
pineapples also helps in our digestion..fiver rich fruit

• Philippines
20 Jun 16
I'm not really into pineapple. I am allergic to it. I get itchy whenever I eat one.