Daily Bible Study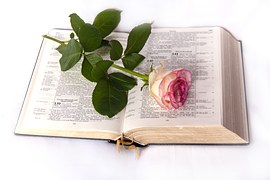 Green Bay, Wisconsin
June 3, 2016 10:24am CST
Day 76 Psalm 76 Psalm 76:1 < In Judah is God known: his name is great in Israel. 2 In Salem also is his tabernacle, and his dwelling place in Zion. 3 There broke he the arrows of the bow, the shield, and the sword, and the battle. Selah. 4 Thou art more glorious and excellent than the mountains of prey. 5 The stouthearted are spoiled, they have slept their sleep: and none of the men of might have found their hands. 6 At thy rebuke, O God of Jacob, both the chariot and horse are cast into a dead sleep. 7 Thou, even thou, art to be feared: and who may stand in thy sight when once thou art angry? 8 Thou didst cause judgment to be heard from heaven; the earth feared, and was still, 9 When God arose to judgment, to save all the meek of the earth. Selah. 10 Surely the wrath of man shall praise thee: the remainder of wrath shalt thou restrain. 11 Vow, and pay unto the LORD your God: let all that be round about him bring presents unto him that ought to be feared. 12 He shall cut off the spirit of princes: he is terrible to the kings of the earth. We are in a war with Satan. He seeks to destroy us with temptations, which would compromise our faith. However, God is in the battle. When we put our faith and trust in God to lead and guide us, he will break Satan's hold on us. Like Asaph who saw victory in battle because God was with him and broke the strength of the enemy, we see God's victory in our lives. We too will see Satan broken and defeated, and we too will praise God. God is our strength. He is our Rock and our fortress. We have nothing to be afraid of when God is on our side. God will cut down and destroy everyone who does not trust him. He alone is to be respected because there is none like him. Is God your strength and fortress? Do you look to him when Satan comes against you? If so, then praise God for all he has done for you. Let's pray: Father, thank you for leading the charge in the battle against Satan. Help me to praise you and look to you as my strength and my fortress. In Jesus' name, I pray, amen. Copyright © 3 June 2016 by Valerie Jean Routhieaux Image courtesy of Pixabay
3 responses

• Ireland
4 Jun 16
I have yet to learn what's from Satan... Or what's just from me

• Green Bay, Wisconsin
4 Jun 16
Sometimes it is hard. However, one thing you might keep in mind is, is this something good, does it benefit me in a good way, or will there be consequences to pay that you don't want to think about. One thing to always remember is that Satan plays on the things that got you in trouble in your past before you accepted Jesus as Savior and Lord, so though you might be thinking it's you, it's him trying to get you to do those things you've overcome from your past, or are working on overcoming.

• Ireland
4 Jun 16
@just4him
so if there are consequences it is possible it originated from the one

• Green Bay, Wisconsin
5 Jun 16
@Drosophila
Temptation of any kind always originates from Satan. He has a way of making you think it's you and not him.


• India
3 Jun 16
Would you mind terribly if I said I do not agree with this statement about God?
God will cut down and destroy everyone who does not trust him.

Why would he destroy his children? He may punish them I agree. Or may be put them through a test or something so they can actually learn their lesson. But destroying? This sounds scary. God shouldn't be someone to be feared of. If we feared him then we will follow him out of fear and not actual belief or trust.

• Green Bay, Wisconsin
3 Jun 16
I understand your position. By trust I mean believing in him. The Bible is quite clear that you either believe in God or you don't. If you don't there is only one option for you - eternity in Hell. Not a pleasant thought, I know, but it is us who causes where our eternal destiny is - heaven or hell. Some people think God is unjust and sends people to hell, but that isn't the case. We do that to ourselves when we reject him. That's what I meant. It is those who reject God that God cuts down. Not because he wants to, but because they made that choice themselves. 2 Peter 3:9 The Lord is not slack concerning his promise, as some men count slackness; but is longsuffering to us-ward, not willing that any should perish, but that all should come to repentance. (KJV) God doesn't want anyone to go to hell, and does everything he can to see our salvation come about.

• India
3 Jun 16
@just4him
Oh! I see your point now.

One more question. What about those who are in confused state? They don't know whether to believe or not. Would they get the chance to establish their beliefs? Personally, I believe God will make them see and believe through life lessons or some other way. So that salvation can be possible for them.

• India
4 Jun 16
@just4him
There are people that are just born evil. Nothing could be done for them.



•
4 Jun 16
Let me start with my doubts... What is starting 12 sentences? They are hard to understand for me. I do pray god about everything.. And nowadays I feel like if I keep on praying for everything then he will stop helping me out.

Well who likes to help a guy who can't help himself.

• Green Bay, Wisconsin
4 Jun 16
This Psalm was written by Asaph, a priest in Judah. At the time he wrote this psalm, Judah was in exile. The spirit of the princes then refers to the rulers of the land they had been exiled to, rulers who did not trust God, but worshiped idols. God will cut off all those who worship false gods. As to the other half of that verse - God is terrible to the kings of the earth - change the word terrible to wonderful. God takes care of the kings of the earth. It is good to pray to God about everything. God will never stop helping those who trust him.