Tomato And Seaweeds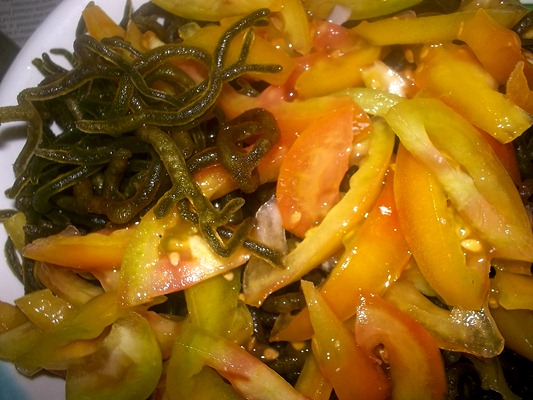 Philippines
June 4, 2016 8:45am CST
I bet fellow Ilocano would love this food; slightly ripe tomato sliced with the sparkling of seaweed we call 'pukpuklo'. Lunch or dinner, this food can fulfill its duty-- to make the eater feel full in their stomach. The seaweed is abundance right now which you can buy at P20 to P40 or less than $1. The tomato now is even cheaper that at P10 or $.25 you can choose the juicier and tastier tomato. Together, this is one of the best food of common Ilocano.
8 responses

•
4 Jun 16
Once I like tomato, but now I don't 'Did you know eating lot of tomatoes can kill you?' I have Heartburn lo Tomatoes are high in acidity. If you suffer from heartburn, it's probably best that you stay away from tomatoes as eating them will encourage the production of acid in your stomach.

• Philippines
4 Jun 16
really, i did not know this, thanks for the info

•
4 Jun 16
@ilocosboy
Only thing I don''t is how to make lot of money lo


• Philippines
4 Jun 16
oh I don't know that tomato is not good to kidney, I thought this is just another fruit which is good for the body

•
5 Jun 16
@ilocosboy
yes especially in harnia or kidney stone, doctors tell you to avoid it.

• Philippines
4 Jun 16
Not an Ilocano but I do love this appetizer/side dish!

• Philippines
5 Jun 16
Ilocano because pokpoklo is so common in Ilocos, he he, I guess you love more the ar-aritos or corales

• United States
4 Jun 16
My grandfather is from Ilocos and I remember eating something like this when I was younger. I thought the seaweed is an octopus tentacle. My mom tried to recreate it minus the seaweed. Basically she will chop green mangoes, and tossed it with chopped tomatoes and onions, and mix it with sautéed bagoong. We love eating it with steamed rice and fried galunggong. Man, now I feel hungry for Filipino foods.

• Philippines
4 Jun 16
seaweed with mangoes is good and the onions. I have not yet taste with bagguong. The seaweed is already salty and adding it with bagguong make it saltier and also easy to shrivel

• United States
4 Jun 16
I've had both those things, just not together. I might like them, but my kids would not be a fan.

•
4 Jun 16
i'm not sure if i would like that.

• Philippines
4 Jun 16
well I guess it goes with the culture of each country