Six Flying Dragons (2015 Korean TV series)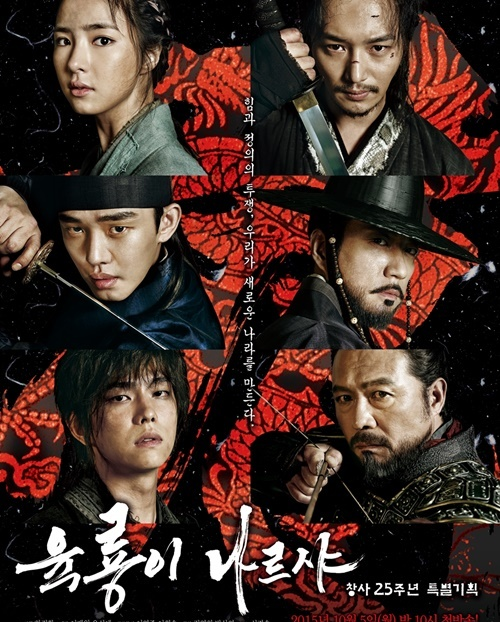 Austin, Texas
June 6, 2016 2:52pm CST
Six Flying Dragons is a Korean history period drama, made for television. Captivating, intense and emotionally charged from the beginning right up until the very end. Even if you don't want to watch the show (which is a big "IF"), you will want to listen to the background music. The series is about the establishment of the Joseon Dynasty and it is also a love story between Lee Bang-Won, a man who would become a powerful crown prince/king and Boon Yi, a woman who is a lowly commoner. Yoo Ah-in, lead actor, as Lee Bang-Won. - Shin Se-kyung, lead actress, as Boon Yi. Unlike Tamra the Island, a K-drama mentioned in one of my previous discussions, which I watched over and repeatedly, the 50 episodes of Six Flying Dragons wore me out! Have to take a breather before watching it again. Would I ever want to watch it again? Oh yeah! Those two young actors, Yoo Ah-in and Shin Se-kyung, were impressive. The series left me with a question. ~ Was there really a secret organization called "The Nameless"?

General Yi Seong Gye is asked to report to the capitol to enter politics at a sensitive time for Goryeo.
3 responses

• Philippines
16 Jun 16
Is this somewhat related or a sequel from the series of Jumong? oh ok I've read the history of it, this is more than five hundred years after jumong's children and their kingdom.

• Austin, Texas
16 Jun 16
I'll have to look up some info about "jumong's children". All I know is that Netflix doesn't have nearly enough K-drama to feed my appetite for this genre. So glad there are sites that offer free video streaming of these TV series.


• Philippines
16 Jun 16
@cmoneyspinner
oh, that's not available here. I don't think he was somewhat descendant of jumong.

• Austin, Texas
16 Jun 16
@Letranknight2015
- Searched for it. Jumong is also on dramafever.com which is the site where I found Six Flying Dragons. I might check it out. Thanks for mentioning it!



• Austin, Texas
7 Jun 16
Way beyond a "good plot". There were plots within plots; like an intricate hair braid.

It was really a work out for me just to keep up with the names of the characters too!
Loved every minute of it!


•
7 Jun 16

• Austin, Texas
16 Jun 16
@Dramista
- Oh yeah! But I still like Clint Eastwood spaghetti westerns.



• Philippines
19 Jul 16
I've marathon this! I watched this after I watch descendant of the Sun and I wasn't disappointed. here is a unique character that had a perception of neither black and white. I am inclined to say Lee Bang woon is ruthless and cunning rather than evil. Because of his shattered perception of the world he became what he is. Thumbs-up!

• Austin, Texas
19 Jul 16
Definitely the guy who played Lee Bang-Won was a hothead, spirited, an idealist and a dreamer, but could also be ruthless and cold-blooded. He was really good at acting the part! He was the most memorable of all the characters! Every time he would grit his teeth and say "Yeah!" you knew whatever he was saying "yeah" to, he was going make good on his word. Just finished watching
"The Tree With Deep Roots"
. The son of Lee Bang-Won was a sharp contrast to his father. He was also really smart like dear old dad, but he used the "smart gene" to accomplish more good than his father. His father killed a lot of people who were deemed "political foes". By contrast, a lot of people were willing to die to support what the son was trying to do for the all the people, and gave up their lives. This was a good series also, but I didn't like the ending. Too sad.



Following up on a TV series recommendation made last month. The show was titled "Six Flying Dragons". Learned that this program was a prequel to...

• Philippines
20 Jul 16
@cmoneyspinner
hahahaa! agread, although I almost never watched this because of the train-wreak "Fashion King". My second fave character was definitely Myu-hool! And I know his character is still alive in tree with deep roots. He is fun to watch.

• Austin, Texas
21 Jul 16
@XianLovesMe
- Loved Myu-hool! He's the type of person you want to meet in real life and become best friends forever.