Tiny front pocket ---on your jeans---why?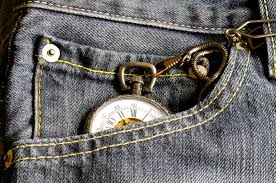 Hyderabad, India
June 9, 2016 10:05am CST
what is the purpose of having a tiny front pocket on your jean? Have your thought about it? Many times, I thought of making a question. But, was not may be due not having the time or due to something more serious than a discussion on this . Whatever it may be. This tiny pocket is actually meant for keeping a watch. In 1800 the cowboys were keeping their pocket around this area and tucking their watch in this pocket. Though, nowadays we are not putting a watch in it is used or termed as Condom pocket, coin pocket or Ticket Pocket. If you can not put a ticket then you can put the small change in it.
4 responses

• Santo Domingo, Dominican Republic
9 Jun 16
Lol good question, funny thing is I use mine everyday to store my USB flash drive jejejej

• Philippines
9 Jun 16
Still a good place for your USB my friend!

• Philippines
9 Jun 16
I do use it to put my watch or some coins sometimes.

• Raipur, India
9 Jun 16
I just use mine to keep those Parking tickets at a Parking Lot. Now I am beginning to wonder why does front pocket in woman's jeans smaller than front pocket in men's jeans?

• Hyderabad, India
10 Jun 16
I think it is gender discrimination at International level ..ahah...ah...ah...ah..

• United States
9 Jun 16
I don't store anything in them. I rarely wear jeans anyway.