The Problem with Moderators (of online writing sites)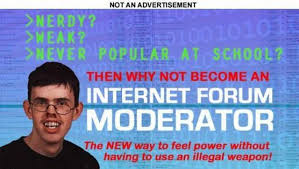 Kingston, Jamaica
June 11, 2016 11:57am CST
I have always supported moderation; human moderation. Yes, if you wish, run the A.I. for spelling/grammar/naughty words, but have some human eye to take a glance. I changed my view when I ran into those vindictive psycopaths who use their position to abuse selected members, cleaning the toes of those they prefer. I've made a lot of enemies at a site l'll call Winkydink. Winky (for short) seemed a reasonable site and every article had to have human moderation; the moderator's name would appear. Over the years Winky was functioning I did my best to avoid certain moderators. There was Dop; who hated me for proving him wrong in early articles, as he fancied himself some sort of musical encyclopedia. There was Pomp who had an elevated sense of his own brilliance and anything that conflicted with his stamped into stone ideas, was slapped down. The other Mods were normal people who could walk on the street without a nurse. I always attempted to avoid Dop and Pomp because it was pointless to have an item 'judged' by people I wouldn't hire to file my documents, much less read them. Over time, communicating with some of the better writers of the site I learned that they too avoid Dop and Pomp. Their items, no matter how good, would be pushed to the bottom, while absolute rubbish was featured. Winky was a site that was kind of funny as to how work was judged. If one had five links, five words in bold, five images, it was likely to be featured although it was absolute rubbish. Right now, there are 15 items on the 'featured page'. Two are by the moderators. 8 are religious dribble written by one person. Only five artricles are honest. The dribble writer is no doubt linked to one of the mods. This was proven just before the site ceased to pay its writers. Pomp was taken in by some sob story a writer gave him so 'featured' spliced rubbish which had been published in other places by her. When the site ceased to pay, she, who had profitted, packed up and left, no doubt peddling her pitiful plaint to another mod. Once and a while one will meet a helpful Mod who will give useful assistance, but this is far and apart.
3 responses

• New Delhi, India
11 Jun 16
Forget winky pinky whatever the site is do mylot


• Oklahoma City, Oklahoma
4 May 17
The forum I had a problem with: the forum for 'members' (although
they
probably think of it more as "donating fans") of (we'll call them) Cope With Dopeland Grinnistrys

Sure, I kind of 'dared them to kick me out' (by doing the one thing they say people aren't supposed to do in church---sow discord

) when I linked to a bunch of things Cope With Dopeland did
before
he married his latest wife & started the Grinnistry (and maybe linked to a thing-or-two he
continued to do
). I think I did it to show 'how much sin we Grinnisters forgive even the worst Sinnisters-for,' but I forgot that
the Way we forgive them
involves
Never Bringing Up Their Sins!
But the moderators can't forgive me for 'bad-mouthing Cope With Dopeland, Holey Be Thy Name'


• Kingston, Jamaica
4 May 17
There are some people who get to be the 'Sore toe' to certain Mods. Whether they know them in real life, whether the 'writer' tongue cleaned their toes, but dare you say 'no' to a Sore Toe, you suffer. One of the business facts is that the Owner who isn't 'on the floor' (by this I mean actively involved in the business) will often be taken in by various 'Sore toes' to the destruction of his business. The same is true on publishing sites.

• Bunbury, Australia
12 Jun 16
I've never run foul of moderators but most of my stuff is very - well, 'moderate'. Have a great day.

• Kingston, Jamaica
12 Jun 16
On a certain site the Mods had (and have) issues with themselves. If you, for example, ever expressed any view they disagreed with...could be the value of chocolate or the time of an event...something totally innocuous they will make sure your work is kicked to the pavement.