BRAIN OR HEART ??

India
November 25, 2006 1:24am CST
do you follow ur brain or heart?? r u calculatve or just go by ur heart and mind??
11 responses

• China
25 Nov 06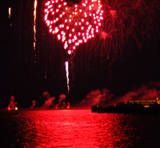 I usually follow a combination of both. My heart certainly tells me to do things and I really want to listen to it, but I have an insanely logical side that seems to sway my decisions. I'll usually think things over a bit and try to weigh the possibilities. If things seem good in both my heart and mind I will go with it. If one side seems good, but I am not okay with it on the other I have a huge problem making decisions. I really have to try and find a balance between making logical decisions and making emotional ones. I usually find my decisions to be okay, I don't often regret them, so I suppose although it takes forever to decide on something important, it is worth the wait and the trouble.

• India
25 Nov 06
i shud try and follow that. u r sensible enough and u will win evry situation. i gotta b more controlled and prudent. thanx, that was really helpful!!! keep discussing

• Philippines
25 Nov 06
I would follow a balance of both.

• India
25 Nov 06
not all decisions can be taken by mind (brain), someitme you need to use your heart and do what your heart says!

• Indonesia
25 Nov 06
heart and mind...both are important. but if u use your heart often, then you might just get tricked by someone.

• India
25 Nov 06
yeah, thats' right, i got tricked most of the time but this heart of mine never listens!!!


• India
25 Nov 06
.....that's understandable. but if fall madly in love with a pauper and a loser and want to marry him, thn wat do i do???

• United States
25 Nov 06
my heart seem's to be right more lol

• India
25 Nov 06
im with u. im always driven by my heart and guess wat, i end up breaking it most of the time