Media Brainwashing ?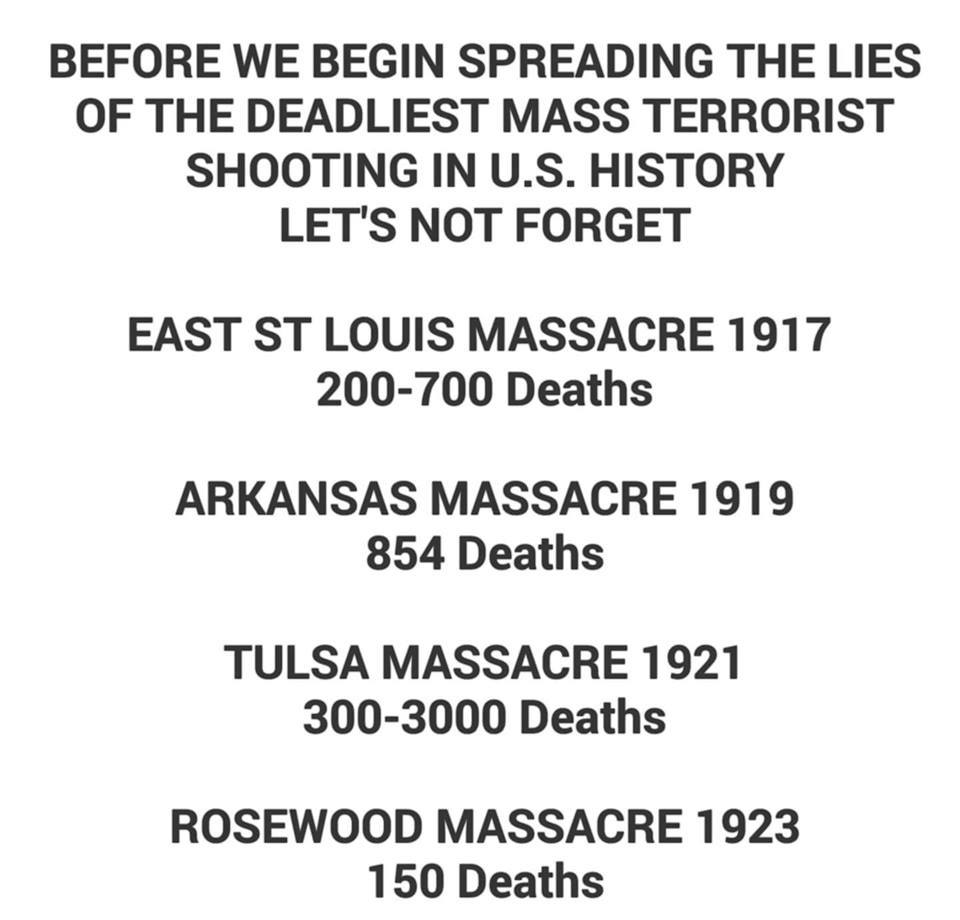 United States
June 14, 2016 2:33pm CST
Is the media manipulative ? They claim that the Orlando shooting which was supposedly caused by terrorism is the worse and most violent in America....however as you can see by the image put together with this post there have been way more heinous crimes committed on American soil that have zero acknowledgement. The media is trying to make us look left while they go right... What say you ?
7 responses


• United States
15 Jun 16
Does it make you or train you to not get too moved by what media tells you ?

• Davao, Philippines
15 Jun 16
@compbabygirl
Sometimes I don't believe them. That is why I don't like to watch news on tv. I only heard the latest happening when friends post it on social media.

• United States
15 Jun 16
@JustBhem
So you try to stay away from major media outlets?



• United States
15 Jun 16
I see where your going with that. I guess I main thing is editorials or fact based news, the media picks and choices where they will channel your attention to. Do you agree ?

• Canada
15 Jun 16
@compbabygirl
There are regulating bodies. We have one up here called the CBC which edits material (we hope for the common good) Britian has the BBC and you guys have.. I don't know what you have. Media is however a network and like all networks specially with the invention of the internet it may have a mind of its own so to speak. To answer your question of course there are "channels". Good thing we have little knobs to turn on our boxes?

• United States
15 Jun 16
@Bluedoll
Ok so wouldn't think that there a times that your government will use media to manipulate or change the outlook of a situation via media ? Another type of government control ?


• Austin, Texas
15 Jun 16
The reports say they are "calling it" ... deadliest, worse, etc.. The reports also called Dec 7, 1941 "a day that would live on infamy". Remember that? Was that a manipulation or was that a way of describing the event?

• United States
15 Jun 16
It can be seen as describing an event but it also depends on who they are blaming the event on. There is alot of secretive stuff that goes on and the government makes us look left while they go right. So short answer sometimes it is to describe and event and sometimes it's a cover-up

• United States
15 Jun 16
@cmoneyspinner
I'm in my 30's. A lady never reveals her age. So then the next question is this....IF we thing the media is manipulating us then were can we go to really get answers to the truth. How did we get to a point of no transparency in our government ?

• Austin, Texas
15 Jun 16
@compbabygirl
- 30-ish? Yeah. I figured you were several years younger than me.

Our government is no different from other governments everywhere else. Ever notice the "scandals" are very similar, no matter the country. It's a power struggle, lust, greed and corruption, common to human beings everywhere on the planet. The fact that you don't accept everything that is reported means you have already decided
not
to be manipulated. First of all you need to narrow down what is really important for you to know so that you can live your life with some sort of peace of mind. With that, the great weight or burden of trying to dig out the truth is lessened and you become more focused on what you need to know.
Go after "the truth" you seek.
Will you find it? Maybe. Maybe not. But it's not likely you will ever know if you look for it!

~ This is just a side note. It doesn't have to be a government job. It's just that government workers are held accountable to the public for their actions. Usually if a person screws up on their job and they need to protect their position and their retirement "nest egg", you'd be surprised how determined they can be to "get to the point of no transparency". It's called
looking out for Number One!
Meaning? Meaning it can make truth-digging extremely difficult. Not impossible. But really difficult.

It may sound like I'm joking or being sarcastic. I am.
Sort of.
But I'm serious and I'm also weary. So it's good to know there are still folks out there like you who have the energy and determination, who still care about wanting to know the facts and the truth. Folks like you are probably the reason the country is still standing.


• United States
15 Jun 16
Sometimes, media likes to play with us.

• United States
15 Jun 16
Do you think media and government are hand in hand sometime ?

• United States
15 Jun 16
@compbabygirl
Of course. Also, rich people have the power to manipulate the media, too, so add that into the mix, and you have three entities playing together.

• Dallas, Texas
22 Jul 16
@compbabygirl
Okay, despite the possible inaccuracy of these numbers was this the first time you larned of the media's manipulative deceit? I mean they've been doing this for years. Longer than the 27 years I've walked this mudball... Wha tipped me off was the fact that they kept calling it "the wost mass shooting in U.S. history" repeatedly... I'm a cynic, so that my cue to not heed what was being said...

• Ft. Lauderdale, Florida
19 Jun 16
Would you feel better if they said the last 5 decades or something like that? Were you at those massacres? Do you know what happened? Or did you learn from the Right wing textbooks??? This is not about the media or the left or the right or anything but 49 people cut down in the prime of their life whether 18 or 50!!!




• El Segundo, California
16 Jun 16
i don't know but i think you misheard something. something like years that they told. so it should be worst in four years maybe like that.