Daily Bible Study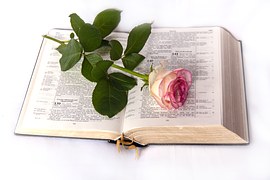 Green Bay, Wisconsin
June 15, 2016 12:56pm CST
Day 88 Psalm 88 Ps 88:1 < O LORD God of my salvation, I have cried day and night before thee: 2 Let my prayer come before thee: incline thine ear unto my cry; 3 For my soul is full of troubles: and my life draws nigh unto the grave. 4 I am counted with them that go down into the pit: I am as a man that hath no strength: 5 Free among the dead, like the slain that lie in the grave, whom thou remember no more: and they are cut off from thy hand. 6 Thou hast laid me in the lowest pit, in darkness, in the deeps. 7 Thy wrath lies hard upon me, and thou hast afflicted me with all thy waves. Selah. 8 Thou hast put away mine acquaintance far from me; thou hast made me an abomination unto them: I am shut up, and I cannot come forth. 9 Mine eye mourns by reason of affliction: LORD, I have called daily upon thee, I have stretched out my hands unto thee. 10 Wilt thou show wonders to the dead? Shall the dead arise and praise thee? Selah. 11 Shall thy loving kindness be declared in the grave? Or thy faithfulness in destruction? 12 Shall thy wonders be known in the dark? And thy righteousness in the land of forgetfulness? 13 But unto thee have I cried, O LORD; and in the morning shall my prayer prevent thee. 14 LORD, why cast thou off my soul? Why hide thou thy face from me? 15 I am afflicted and ready to die from my youth up: while I suffer thy terrors I am distracted. 16 Thy fierce wrath goes over me; thy terrors have cut me off. 17 They came round about me daily like water; they compassed me about together. 18 Lover and friend hast thou put far from me, and mine acquaintance into darkness. Many times through life we feel hopeless, as though God is far away and can't be found. We pray, but our prayers go unanswered and we fear death because nothing is achieved when we die. So we keep praying and pleading for God to hear us and help us. Herman the Ezrazhite penned this psalm, not as a means of showing God is faithless, and is not concerned about his people, but to show that no matter what the circumstances look like God has not abandoned them. As Christians, we know there are three answers to every prayer: yes, no, and wait. We know God has a purpose and timing in everything, and even though life looks hopeless, it isn't. God is in control. Life isn't easy. Satan does everything he can to cause trouble and make us believe God has abandoned us. However, we need to get rid of Satan, and let him know he has no control over us. When we do, we might find God's answer has been there waiting for us all along. We just needed to be patient and wait for it. Let's pray: Father, life looks grim. I find myself wondering which way to turn. Help me look to you in everything and know you have kept your promise and have not left me or forsaken me. In Jesus' name, I pray, amen. Copyright © 15 June 2016 by Valerie Jean Routhieaux Image courtesy of Pixabay
4 responses

• United States
16 Jun 16
It is impossible to remove the other side of a coin right ? Then why try and get rid of satan ?

• Green Bay, Wisconsin
16 Jun 16
Not get rid of him as in he's no longer around to do us harm, but when we resist him, and tell him to leave us alone, he will flee from us - James 4:7

• United States
16 Jun 16
@just4him
okay without quoting scripture-- what does Valerie think of God having two sides ? As clearly our Bibles show us differentiation between the God in the Old Testament versus the God in the New Testament correct ? I think better defining the duality of good versus evil playing its necessary part in the way Earth and its inhabitants were designed to live by, should be re-examined . . . yes or no ?

• Green Bay, Wisconsin
17 Jun 16
@enlightenedpsych2
God is never changing. He's the same God Old and New Testament. God doesn't choose sides. His side is the ONLY side. I didn't quote scripture, but you can look at Hebrews 13:5 or it might be verse 8. Now you have me second guessing, so that means it's verse 5. God is good and the devil will always be evil. God kicked Lucifer - the devil - out of heaven. That's why he's here messing with our minds, wills, and emotions.


• United States
15 Jun 16
I remember, as a little girl, Mom worrying about the Russians sending bombs to blow us off the planet. She was often physically ill over that. And through the years, she found more and more to worry her. I see all the destruction around us today and I pray for all those affected by violence and I also pray for those doing the violence, that somehow their hearts will be changed. It's become my daily prayer. I don't worry about it. I just pray. I wish everyone would do the same.

• United States
15 Jun 16
Here's a link you might want to read:

How did evil begin? Was God's creation defective? Why so much suffering? The evidence is clear that human rulers have failed. How can we choose God as our Ruler?

• Green Bay, Wisconsin
16 Jun 16
Prayer is the only thing that will make a difference in the world. Evil is all around us, we can't ignore it but we can pray and let God do the rest.

• Ireland
22 Jun 16
All bad things will pass.

• Green Bay, Wisconsin
22 Jun 16

•
16 Jun 16
Amen! This is such an soul - uplifting psalm. God truly does answer prayers even when it seems like what we have asked of God hasn't manifested yet. It is very important for us to always acknowledge the fact that "delay is not denial"; Sometimes it may seem as if the answers to our prayers is far fetched as we read in above Scriptures, but the truth is that God is never late[as Men define lateness], He is always on time because He makes all things [even the answers to your prayers] beautiful in its right time.

• Green Bay, Wisconsin
16 Jun 16