Another peek at the World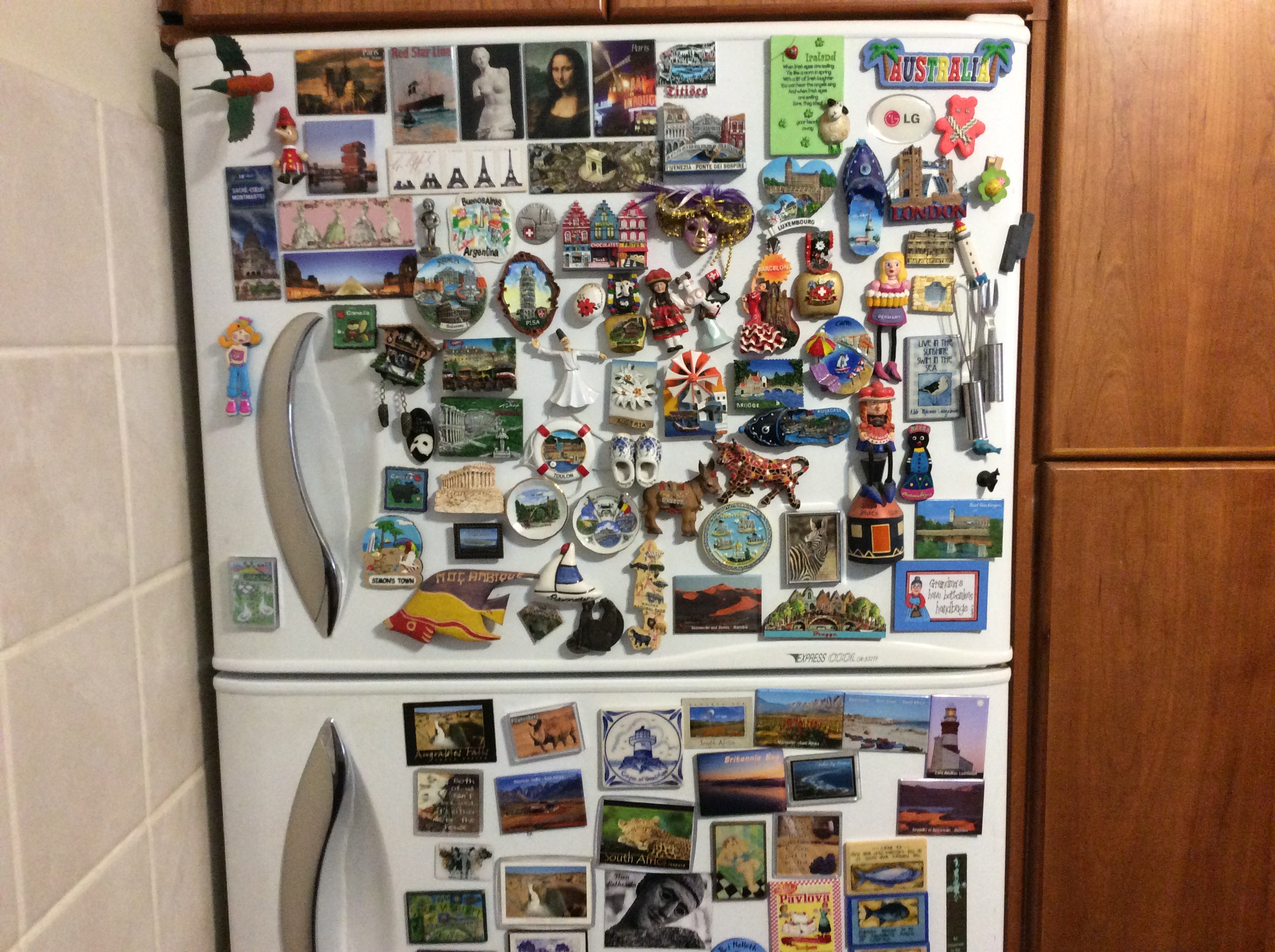 South Africa
June 17, 2016 9:11am CST
The explosive magnetic field has become a trend . . . yes Fridge Magnets are doing it all over MyLot!! I give you a view of the top half of my fridge with most of my Oversea's magnets. Local and African continent ones are found on the bottom door, so that if they break my hubby doesnt have to take me on too far a journey to replace any. The rule is, is you break one of my magnets by being careless with the fridge door, you have to take me to the Port O'Call of the magnet and allow me to get a new one! Fair? I think that's fair! On all my travels I always bring four different types of the same place magnets, one for each of my children and one for me, the children get to choose first and I get left with the one they dont like the most. If I have a friend that has asked, then I bring for them as well.
10 responses

• Colombo, Sri Lanka
17 Jun 16
You are beating me. I have only 4 on my fridge, that came with some food

. I would not have thought that you could buy a magnet of the Venus de Milo or of Mona Lisa

. If they continue this way the Louvre will sell soon garden gnomes


.

• Colombo, Sri Lanka
17 Jun 16
@Inlemay
*pushing a sigh of relief* They have nice reproductions of statues, but it is not cheap. I hope that the Louvre will never produce garden gnomes

. Versailles has a particular legal status, and they have my blessing to sell whatever they want, as it helps to restore the buildings. You can even buy canned boxes of vegetables from the gardens

.

• South Africa
17 Jun 16
@topffer
I think Versailles is the most magnificent planned garden I have ever laid eyes on, I walked half, then did the other half on and off of a golf cart and then still went the next day to do it all again and see the Palace inside as well


• Banks, Oregon
17 Jun 16
Sounds fair to me. I have a good assortment of magnets too.

• Banks, Oregon
17 Jun 16
@Inlemay
I have shared some, but none of the magnets, will take a pic and, show some when I get home, but some of my favorite ones I have are Superman, Batman, Bruce Lee etc.

• South Africa
17 Jun 16

• India
22 Jun 16
Yours is a diverse collection .When are you going to add an Indian one:)?

• India
23 Jun 16
@Inlemay
Yes in places which tourists visit. I saw them in Goa.

• Manchester, England
18 Jun 16
It looks as though you will need a larger fridge before long. Even the souvenir shops in the holiday resorts do not have such a large stock of fridge magnets. Did you have to reinforce the hinges on the fridge to support the weight?

• United States
17 Jun 16
Wow, what a collection. I hate cleaning mine. They get sticky and dusty. What do you clean yours with ?

• United States
17 Jun 16
that's quite a collection of magnets and I like your theory that if one gets broken you have to revisit that place to replace it

• United States
18 Jun 16
Wow, you have so many magnets! Very beautiful!

• Centralia, Missouri
18 Jun 16
holy crap you weren't joking, you need a magnet board somewhere else!

• Ireland
17 Jun 16
@inlemay
Nice inexpensive way to preserve memories.