Eating ...on the roadside tiffin centers...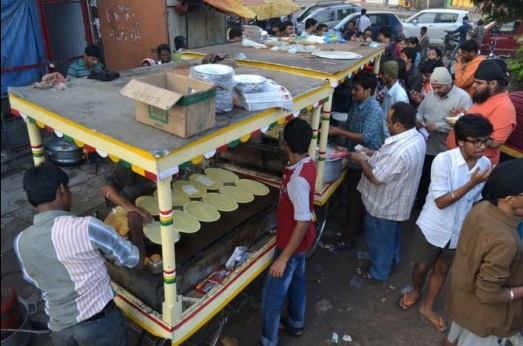 Hyderabad, India
June 18, 2016 12:20am CST
There are many small, big, and five star hotels in Hyderabad. There are some hotels exclusively meant for middle class family. The prices of the items will be reasonable and they will be prepared in hygenic conditions. The small hotels are those that will be available in small towns. The prices in these hotels are generally very low. At the same time the stuff will be low in quality. Since the year 2013 many fast food centers have come up. Their number is increasing day-by-day. They were making good money. But, they are facing stiff competition from roadside Tiffin Centers also. These Tiffin Centers are not fastfood centers. But, all breakfast items and lunch/meals will be available in these roadside hotels. They are in high demand. If the price of a beakfast is Rs.30/- in middle class hotels, the customer will get the same breakfast for Rs.20/- only in these Tiffin Centers. The item will be good and tasty. But, one has to stand and eat. The breakfast will be supplied on a banana leaf kept in a plate. The demand for these Tiffin Centers is such that even persons moving in a car and other 4 wheelers stop their vehicles near these centers and finish their breakfast. One more advantage of eating in these centers is that the breakfast will be prepared right in front of the customer. One can notice the quality and brand of the oil used, the qualities of vegetables cut for the preparation and everything. As such, they prepare with utmost care and diligence. Now, the business in all the other types of hotels has come down totally. Most of the owners are either closing down their hotels or leasing them for Hospitals and Marriage Halls. Dear Friens, do you have such hotels?
4 responses

• United States
18 Jun 16
That's very interesting. I like street food so this would be a great experience.

• Hyderabad, India
18 Jun 16
But, you should choose a good one.

•
18 Jun 16
Once in a while eating at such places is okay. But eating daily it is not good. I agree that the tiffins are served hot and tasty. But I doubt about the quality of oils and materials used. Neatness is other problem.

• Hyderabad, India
18 Jun 16
the preparation will be nice and clean. But, the place they choose to keep the center is important. sometimes they keep them near a drainage. That is a big problem.

•
18 Jun 16
@shivamani10
yes and the used plates, leaves etc are kept in open dustbins. These days there are many mobile canteens also, they are much neater. I like to eat dosa there sometimes


• Hyderabad, India
18 Jun 16
@vijay_2016
They are somewhat better than regular hotels.


• India
18 Jun 16
Road side tiffin centers are good to packet .and it is the source of good foods to middle class people am i right?.

• Hyderabad, India
18 Jun 16
yes. cent per cent. But, even the class people are unable to bear the expenses in good hotel. They are not finding any difference between the big hotels and the tiffin centers.