Wants or Needs ?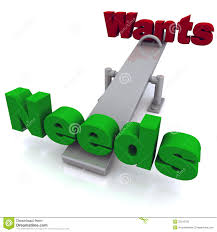 Philippines
June 19, 2016 8:53pm CST
To be happy in life, we must learn the difference between what we need and what we want. A need is generally referred to, as something that is extremely necessary for a person to survive. It these needs are not met, a person may experience hunger or disease. A want is something that a person desires, either immediately or in the future. It include everything else we might like to have, but we don't need to survive. So which should come first? Needs or Wants? Photo credit to dreamstime.com
6 responses

•
20 Jun 16
I limit my expenses to needs. Instead of buying wants, I deposit the money into my bank account.

• Philippines
20 Jun 16
@Chungshop
Maybe she just want to save for future needs..


• Philippines
20 Jun 16
Needs should come first before Wants. I have been earning a stable income monthly and I can say that I am very blessed to have a job which is just a walking distance to our house. Because of that, I do not need to spend for transportation and even for foods because I will just go to our house to eat. I give all my money to my mom and she has been the one budgeting it and saving some. I am not much into buying clothes or any gadgets. I am contented wearing same clothes repeatedly. I have my gadgets but I am not the one who bought them. My boyfriend gave me gadgets as gift for my birthday.

• Philippines
20 Jun 16
@magallon
I have a vice too which is travelling but still I don't let all my savings go there. That is why I have been working harder to have more money and to do what I love to do.

• Philippines
20 Jun 16
@annierose
That's good. At least you're a wise spender.


• Philippines
20 Jun 16
Needs are my priority. Wants will just follow after fulfulling all my needs


• Philippines
20 Jun 16

• Philippines
20 Jun 16
I think it's basic and most people know that needs come first. However, pretentious people would spend money they don't have on their wants so they could show off that they're 'rich' when actually they could hardly survive in life. Pity.

• Philippines
20 Jun 16
@magallon
That is called envy and it's one of the 7 deadliest sins.

•
20 Jun 16
If I have more extra money I just want to buy, but I don't need now may be latter who know. Want or need always confuse my mind.