Golden 60's - BanG BanG (My Baby Shot me Down)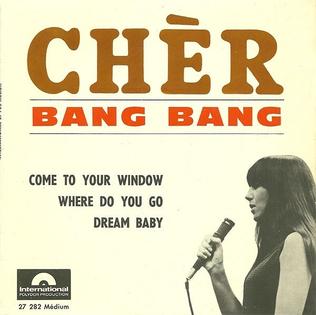 June 24, 2016 2:58pm CST
If you've watched movie kill bill (Volume I), you might have noticed some "Folk Rock" music being played in the opening credits. Don't remember? It's ok! I'm here to introduce you to this sweet Rock song of Sixties, which has been re-recorded by around 60 different Singers since 1966. "I was five and he was six We rode on horses made of sticks He wore black and I wore white He would always win the fight Bang Bang- He shot me down Bang Bang- I hit the ground Bang Bang- that aweful sound Bang Bang- My baby shot me down" This beautiful song "Bang Bang (My baby Shot me down)" , sung by American Singer CHER (Written by her husband) was second number from her Album "The Sonny Side of Cher". Let's cut to the chase. The song topped charts of that time and numerous artists around the world have recorded their versions of the song thereafter (lately in 2016). A well deserved milestone for such an epic song. Some more beautiful lines: "Music played and people sang Just for me the church bells rang Now he's gone, I don't know why And 'till this day, sometimes I cry He didn't even say goodbye He didn't take the time to lie Bang Bang- I shot him down Bang Bang- He hit the ground Bang Bang- That aweful sound Bang Bang- I shot My baby down" Here's the youtube link to the song (Buddha Bar Version - I found it ecstatic) Enjoy the song in background. Respond if you liked.

Also, i never understood the true context of the song. Would love to hear. Happy listening!

Buddha Bar XVII 2015 - The Ukulele Orchestra Of Great Britain vs Ibiza air - Bang Bang (Yuyuma Chill out Remix)
6 responses

• United States
24 Jun 16
Well, when you shoot a guy down, you just eliminate him from your life due his not treating your right. Well, that is the best I can do with this one.

•
24 Jun 16
Lol! You didn't listen to it till end. In second verse, she gets shot by the guy too. You'd love it, try!


• United States
25 Jun 16

• United States
24 Jun 16
that is one of my favorite there.Thank you for submitting this.

• United States
24 Jun 16
@baman7987
Yes,there was someone else who recorded this.Cannot at this time think of the person

• Colorado Springs, Colorado
24 Jun 16
I remember this. My parents had it. On 8 Track, no less

•
24 Jun 16
No wonder, song's been favourites to different generations alike. Mention it someday to them, or play it on some special occasion. They'll feel happy,

•
24 Jun 16
ang Bang- I shot you down Bang Bang- You hit the ground Bang Bang- That aweful sound Bang Bang- I shot My baby down" These lines are awesome

•
24 Jun 16
Not just these beautiful lines, but the music in the background also. I've been in love with the song for years.

• Los Angeles, California
24 Jun 16
I remember this song by Cher. It was one of her biggest hits. Of course by today's sensitive PC standards, the song is offensive.