My daughter doing one of her favorite things.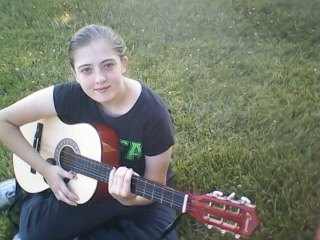 June 25, 2016 1:37am CST
I am so proud of this young lady this is my oldest daughter. She begged and begged for a guitar and I thought yeah sure this is something that would be passing and she'd be onto to the next big thing. We'll I finally gave in and got her one last year. She has soared with it and is with it to this day. She's quit good and has basically taught herself. I offered to get her lesson's she said no this was her thing she wanted to learned her way. She save up her money and bought a couple of guitar books and the rest she's learned from youtube video's. She is a very strong willed child but in some ways it can be a good thing, lol.
10 responses


•
25 Jun 16
Thank you, yes she's always been been like that.

•
25 Jun 16
Congratulations! I'm glad she finally persuaded you :) I can tell that once you get into music, you never go back. In a good way of course. Now I started to play the piano back in primary school. Eight years later I picked up the acoustic guitar. Three years after that I started to teach myself how to play the bass guitar. Three more years and I bought a drumkit (which is a really fun challenge, and a cool one too). Am I crazy? Addicted? Maybe, but my life is worth way more now. I recommend paying lots of attention to music theory. Some people hate it, some absolutely love it, but theory is probably a top-level priority. Chords, progression, scales, genres, what comes with what, why that works with that, I could even add psychology and physics, but yeah maybe that's a bit too far. But worth it, even if you just want to play for leisure. It's like scratching the tip of infinity. But doing that, you literally become a part of it. I can guarantee it's something that doesn't pass. Don't forget to encourage her, but hey, you managed to take a photo of her with the guitar - I remember how I used to hide in my room every time I plugged in my guitar. I turned the volume to minimum and when somebody visited me, I was just sitting on my bed pretending to be doing nothing, he he :) For me it was like this - I could play for fifteen thousand people no problem, but if even one of them was my close relative, it would make things 10 times harder. Thankfully I got rid of that feeling. But that's just me and my paranoia :D

•
25 Jun 16
Yeah she tends to pull back when she thinks someone is watching or listening. But she is actually very good. She's coming out of some of it. I told her it's just because she is doing so good at it that everyone wants to hears and that's not a bad thing.


•
25 Jun 16
It's hard learning to play something. I played violin when I was younger I can't anymore though because I had broken my arm about 6 years ago and really messed up hand. Hoping that one of my kids would pick it up as I would love to teach them.

•
25 Jun 16
yes she is. Im always telling her she's stronger than she thinks.

•
25 Jun 16
Sometimes it is not a easy thing to find our favorite things ,you must be proud of her!

•
25 Jun 16
yes I am. Yeah that's why I was a little relucent on getting her one because she's started things before and quit in the middle but so far so good. Hopefully she'll stick with it she's very talented.

• India
25 Jun 16
you must be proud of her. Her passion will keep her company even when she is alone.And yes guitar players are very much in demand in any gathering.Good luck to your daughter.