Are affections disappearing in the Indian Society..?..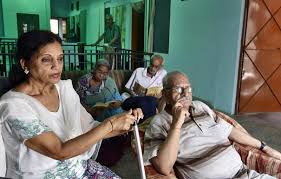 Hyderabad, India
June 25, 2016 7:57am CST
It is really a sad thing to notice that the number of Old age Homes or Centers are on the increase in the Indian Society. Whenever, I happened to visit a temple or any holy place I am observing that adjacent to that prmises there exist some Old Age Home. The people therein of course, are not denied of any facilities or comforts. They are all people who are fit to walk and are capable of delivering the goods at home in a better manner if left alone . Once in a months or fortnight, their son (or sons if they are lucky) visit them with some good food stuff and clothes and inquires about their facilities and comforts and while leaving the put some money in their pockets which he has to accept not because he got shortage of money but he does not wants to see his son getting angry or sad by reecting it. In a place which I had visited 5 months back there are now 17 Old age homes. Prioer to that in the year 2005 the same place has got only 2 such Old Age Centers. This is not the case only with that place,but in all most all cities and even in the districts the swing is on the increasing side. Are they not feeling happy remaining with their sons or the sons are not happy with their parents after their marriage ? If not, are they unable to adjust themselves with their daughter-in-law? Surprisingly, it is only the Son's parents in most of the cases are being sent to these Old Age Centers whereas in most of the cases the parents of the daughter-in-law's make their permanent stay in the house of their daughter. Why the son is adusting himself with his in-laws sending his own parents to the Old Age Homes is a big question now?
1 response

•
25 Jun 16
We can't do anything Indian youth needs to learn that parents are those who were with us while no one was taking stand for us

• Hyderabad, India
25 Jun 16
The number of responses itself is a proof showing how shameful are they. India is unnecessarily feeling proud of her Indian ladies. They are all once upon a time words which do not carry any value at all.

• India
9 Jul 16
@shivamani10
India is unnecessarily feeling proud of her Indian ladies.
- What does it mean? I don't see many old age homes. Would wish to go into one, From your post, it appears like people have either son(s) or daughter(s)... otherwise they would have one home to live in. Actually it's the daughter-in-law adjusting to entirely new surroundings and the new set of parents and relatives. Can you deny that? Why doesn't the groom leave his home behind to permanently settle with in-laws is the question.

• Hyderabad, India
10 Jul 16
@hora_fugit
Yes. It is the daughter-in-law who is expected to adjust. The son is already adjusting himself sending his own parents to old-age home or any care center. The interesting thing he pleasingly allows his in-laws in his house and takes every care of them.Where is the reason he again going to in-laws house? The shameless in-laws come and stay with son-in-law, necking out the parents of the son-in-law.