How Does My Garden Grow?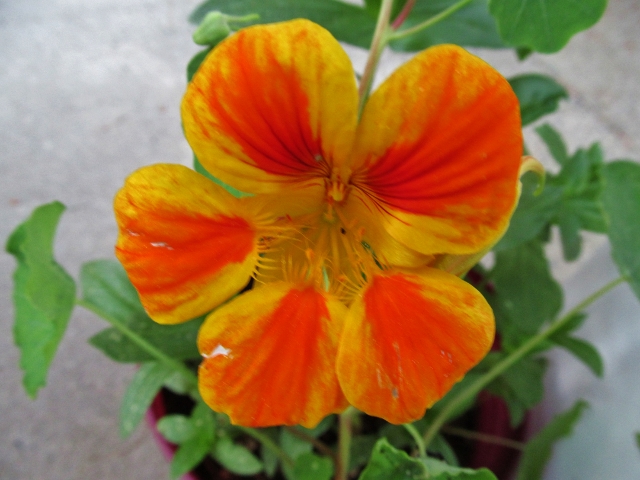 Saco, Maine
June 25, 2016 5:19pm CST
Every day now, I'm seeing something new appearing in my little "garden." Some of you know that I grow everything in pots now, as I have no actual ground that I can plant anything in. But that actually gives me an advantage, in that, once things start growing, I can move the pots around to create different patterns. And there is no better way to achieve the lush look that so many of us strive for than to grow flowers in containers and then group them closely together. This is a photo of a nasturtium, an annual that I've grown now for many years. The seeds are large and easy to plant, and it's pretty much a question of planting and watering them and then leaving them alone. I love the variegation of the color that moves outward from the center of the blossoms, and how it gives way to a second color. Most nasturtiums are in the warm color range of yellows to bright oranges, with some paler shades in between. A few more open each day, and I am really enjoying seeing them right outside my door. My morning glories are also climbing up the pole I provided for them, so I hope to be seeing the first ones open very soon now. Photo Copyright@2016 Rachel Lovejoy
10 responses

• United States
26 Jun 16
Wow that is so beautiful Rachel! I wish I would have had some time to plant a few in pots also this year. I was planning to until Mom got sick. So lovely your garden grows.



• Saco, Maine
26 Jun 16
Yes it does. Another lucky year. Hope Mom is better.



• United States
26 Jun 16
@Raelove
She is improving so we are hopeful thanks my friend.




• Chile
25 Jun 16
I love flowers too and I am thinking about plants in containers if my new home or apartment is a lot more small. Yesterday, at my friend´s party, I anounced that everyone was welcome to come and take some plants. I would love to have them at the house of people I love. I lhave grown nasturtiums for several years. I suppose that you know that both the flowers and the leaves are edible?

• Saco, Maine
26 Jun 16
Yes, I do know that. I like the idea of giving your plants to people you love when you move. You can be sure they will be well cared-for.

• Los Angeles, California
25 Jun 16
That is a remarkable two color flower. It is like you took a bush and splashed some red on yellow.

• Saco, Maine
26 Jun 16
It is, and yes, it does look like someone painted those colors on. Can't take the credit for that, though. It's all nature's doing.

• United States
25 Jun 16
What a beautiful flower that is, the orange and yellow is so vibrant.

• Saco, Maine
26 Jun 16
While they are not my favorite colors, I do find them quite remarkable.

• Philippines
25 Jun 16
Wow! Looks so lovely


• United States
25 Jun 16
I tried one year to grow nasturtiums, but was not very well equipped to do so. I was about twenty one, had no tools or pots or money to buy such. I lived in San Diego area at the time and remember that there was a bridge or pathway filled with them and they were gorgeous.

• Saco, Maine
26 Jun 16
You actually do not need any equipment or tools other than some kind of pot, potting soil, and the seeds. They are among the easiest annuals to grow, and I have never failed. Put soil in pot or bucket or whatever you have, poke holes in the soil with your finger about an inch deep and two inches apart, drop a seed in each, bring the soil back over it with your finger, water it, put it in the sun and forget about it. If the soil is dry, water it, and that is it. I buy dollar store seeds each year, so you don't even have to spend a lot for them. I grow nasturtiums for the grand total of about $2 a year. Seriously.

• Cuyahoga Falls, Ohio
25 Jun 16
This is beautiful. I love the flowers.

• Saco, Maine
26 Jun 16
So do I. They have a nice mild scent to them, too.

• Saco, Maine
26 Jun 16
@KristenH
If you're near a big store like Walmart, they sell Miracle Gro there, so you don't have to wait. The longer you wait, the less chance you have of their coming back this year. Good luck!

• Cuyahoga Falls, Ohio
26 Jun 16
@Raelove
Thanks. Walmart is a town away as I'm not really near it. I'll need a ride to get to Lowe's or Home Depot.


• Bunbury, Australia
26 Jun 16
That is a really lovely photo. Your plants would give you a lot of pleasure. I eaten nasturtiums in salads - and cakes too I think.

• Saco, Maine
26 Jun 16
Thanks. I should try one this year in a salad.

• Bunbury, Australia
27 Jun 16
@Raelove
They'd add a bit of colour - and you could watch guests skirting carefully around them. :)

• Saco, Maine
27 Jun 16
@JudyEv
I don't imagine they taste that bad.




• Saco, Maine
26 Jun 16
It is. I will try to post another photo of it soon. Thanks.