It's like pullin' teeth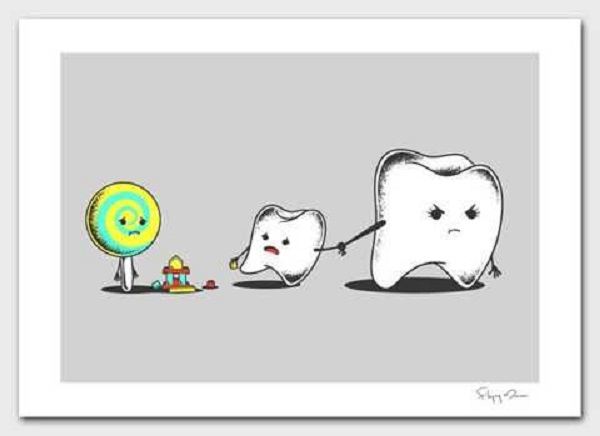 United States
June 26, 2016 9:07pm CST
My son has a cavity. Instead of going the traditional route where the dentist drills and fills his tooth with potential poisons, we've gone the more natural route. One might say the path we've chosen is a difficult one: We're attempting to fix the baby tooth--or at least keep the cavity from further decay until it falls out--with diet. After reading the book,
Cure Tooth Decay
by Ramiel Nagel; along with the writings of Weston Price, it seems that teeth can be healed without using the extreme measures of a dentist. We started off well, cutting out grains, sugars, and wheat. My son is taking cod liver/butter oil and, for a time, was using a home-made toothpaste full of ingredients that promoted tooth health. His last dental check-up, which was several months ago, had the doctor encouraging us to continue with our program. From what he could see, the cavity hadn't gotten worse. But it would take an x-ray to see if the condition was truly improving. He has another check-up, complete with that x-ray, in another month or two. I'm eager to see what the results will show. Now, I've read plenty online about people that healed their cavities with this method. But you never can tell, on the internet, what's
really
true. So my interest was piqued when a real live friend of mine told me she had healed a cavity by oil pulling...and
only
oil pulling. I'm not crazy! It
can
be done (says the unknown stranger on the interwebz

)! I'd love to hear if anyone else has succeeded at healing their teeth in a non-conventional way. Have you--or your aunt's cousin's friend's brother's uncle--used diet, oil pulling, black walnut oil, or cod liver/butter oil to heal a cavity?
1 response

•
27 Jun 16
I've never heard of that. I've had horrible experience with dentist and refuse to go. I've heard of oil pulling with coconut oil/milk. Im glad that your still having him checked with the dentist.

•
27 Jun 16
@Genipher
I wish you and your son the best hopefully he wont have to go through that. I had to have a tooth pull when I was younger and they didnt numb it or anything and when I was screaming and crying the nurse was telling me to shutup and quit acting like a little baby it was horrible.

• United States
27 Jun 16
@AutumnSnow
Yikes! What an awful experience! This particular son of mine has had to have baby teeth pulled before, but they numbed him first.