DONATE SOMETHING WHICH IS AN EXCESS FOR YOU AND NOT THE USELESS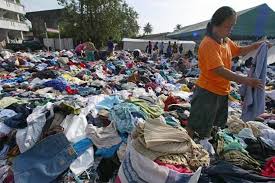 Hyderabad, India
July 1, 2016 12:43am CST
Donationating something liberally to others to make further use of a thing is a nice idea. It does not mean you can donate each and everything as per your will and pleasure. While donating something other than money to a person one should know whether; Is the person really in need of the donation? Can he can the best use of the donation.? Though the above two are not the only criteria that really give the meaning to the donation, they hold good while liberally donating the used clothes to the persons. If it is assumed on average we use a pair of standard clothes once in 4 days. Taking the quality, price, and price of the fabric. After using this,we keep it aside and it finds next turn after 4 days. So, per month we need a maximum of 5 pairs. We generally use other dresses at home. The life span of the pair increases. At any rate, a pair can be used comfortably for 6 months. Can you use any pair of dress for more than 6 months? Can you use it for more than a year? Will it not affect your body odor or skin? By this time it might have lost all its shining, luster, durability, and will be showing the sign of peeled dried banana. Now, how can you donate such clothes to another person? The pair, any further usage o which is likely to affect your health can be donated to the other person, just because the latter happened to be in need of it? You donating is not helping him but you are causing a damage to the others health by your such donation. Always Donate Something Which can be used by others. Donate with a purpose but not with a Sympathy especially to the Flood Victims. ALWAYS DONATE SOMETHING YOU GOT IN EXCESS, but NOT USELESS.
4 responses

• Philippines
1 Jul 16
I so agree . If we donate , it should be something that is useful not useless . Giving a useless one is not donating but throwing away a thrash actually .

• Hyderabad, India
1 Jul 16
yes. this is want we have to keep in mind.

• Hyderabad, India
1 Jul 16
Donating something should come from heart. Not from cruel mind. ThankQ

•
1 Jul 16
I donated huge no of clothes, to the tsunami victims. I keep donating things which are in good condition, and can be useful to someone.

• Hyderabad, India
1 Jul 16
yes. Donation should com from the heart but not from the brain.

• Philippines
1 Jul 16
I have observe this too during the outreach program we did. Some just dump their things like used clothes, shoes among other things. But when you check these things, it can never be used because it is damaged and useless.


• Hyderabad, India
1 Jul 16