The Blank Sun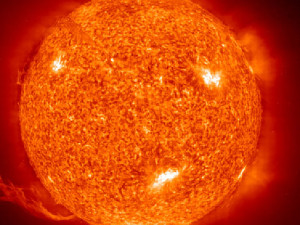 Kingston, Jamaica
July 2, 2016 9:30am CST
The sun has lost its spots. According to scientists, this is a sign we are heading for a mini ice age. This has sparked a mild panic about an impending "Game of Thrones"-style winter not seen since the 17th century. "For the second time this month, the sun has gone completely blank," Meteorologist Paul Dorian says. "The blank sun is a sign that the next solar minimum is approaching and there will be an increasing number of spotless days over the next few years." The "blankness" to which Dorian refers, has some experts predicting a "Maunder Minimum" phase similar to one which began in 1645 and is referred to as the "Little Ice Age." The Maunder Minimum, named after solar astronomer Edward Maunder, lasted for a brutal 70 years and conditions were so cold, the Thames froze over.
2 responses

• United Kingdom
2 Jul 16
I'd prefer a mini ice age than global warming

Personally I think the earth is so old and we only have a couple of hundred years of accurate records. I don't disbelieve in what scientists say I just think they don't know as much as they'd have us believe. But, whether or not people believe in global warming the things they say are causing it make sense to stop anyway so it's a win win situation. Pollution and relying on fossil fuels are bad so even if global warming is wrong we wouldn't lose out by taking steps to be more green.

• Kingston, Jamaica
2 Jul 16
Years ago, when I doing my first degree I had a strong minor in geology. Scientists were predicting there would be an ice age as the Earth was 'due' as every 10k - 12k years there has been an ice age. I was quite taken aback hearing of this 'Global Warming' as it came from nowhere. All of a sudden, 'Earth is getting warmer' without any form of geological record/proof, etc. Further, all the so-called 'data' about Global Warming is without any scientific basis. But people are such sheep they believe whatever they are told; i.e. 'vegetable oil is good for you, coconut oil is bad' kind of rubbish. I find this whole global warming hoax hysterically funny. Imagine a guy in his 50s; born and grew in upstate N.Y. Since 2010 the winters have been the coldest on record...each year getting worse, and last year the pipes carrying water to his house burst. I asked him if he still believes in Global Warming and he, getting antsy, "Of Course! The Earth is Getting Hotter!" I live in Jamaica... for the past two years I have to wear socks to bed...from Nov to April.. socks because it is that cold. My view is the the 1st world wants to move away from oil. So, creates this problem and renewables will solve it without stepping on Saudi toes. The Earth was much warmer than it is today; hippos lived in Wales. The Earth was much colder; there were ice ages. What is the norm for the Earth? Ans; there isn't. Look at how the Roman Army dressed... look at how the Egyptians dressed on the hieroglyphics ... you see any winter coats? No. Not then. It was much warmer then. It was also much colder; i.e. the Bering Strait could be walked on. People could walk from France to England.

• United Kingdom
2 Jul 16
@tallawah
I'm no expert but I think moving away from oil is a good thing. At the end of the day it is a finite resource so sometime it will run out. Also if you don't have oil you are relying on other countries for your energy needs. Like a lot of europe relies on russia for gas...russia could turn off the tap if they wanted to.

• Kingston, Jamaica
2 Jul 16
@Mike197602
What I think... and I'm not a conspiracy theorist, is that in the 70s, when there was the 'oil crisis' and OPEC decided to hold the world for ransom, the idea was to prevent that from ever happening again by ending oil dependency. However, as so many millionaires were invested in oil the weaning would be slow and to divert and distract, the 'Global Warming' myth was concocted. So slow and steady the 1st world pulls from imported oil, cuts down on its use but hides behind this 'Global Warming' myth so as not to reveal the true reason. The millionaires are able to diversify and pull their money from oil investment, moving on to other things, and throwing up a windfarm isn't 'F U Saudi!' it's 'Combating Global Warming.'


• United States
2 Jul 16
Hopefully, the prediction is a long way off, but those of us in our area are used to brutal cold, so not too big a worry.