Pub Sign Study The Lower Turks Head Manchester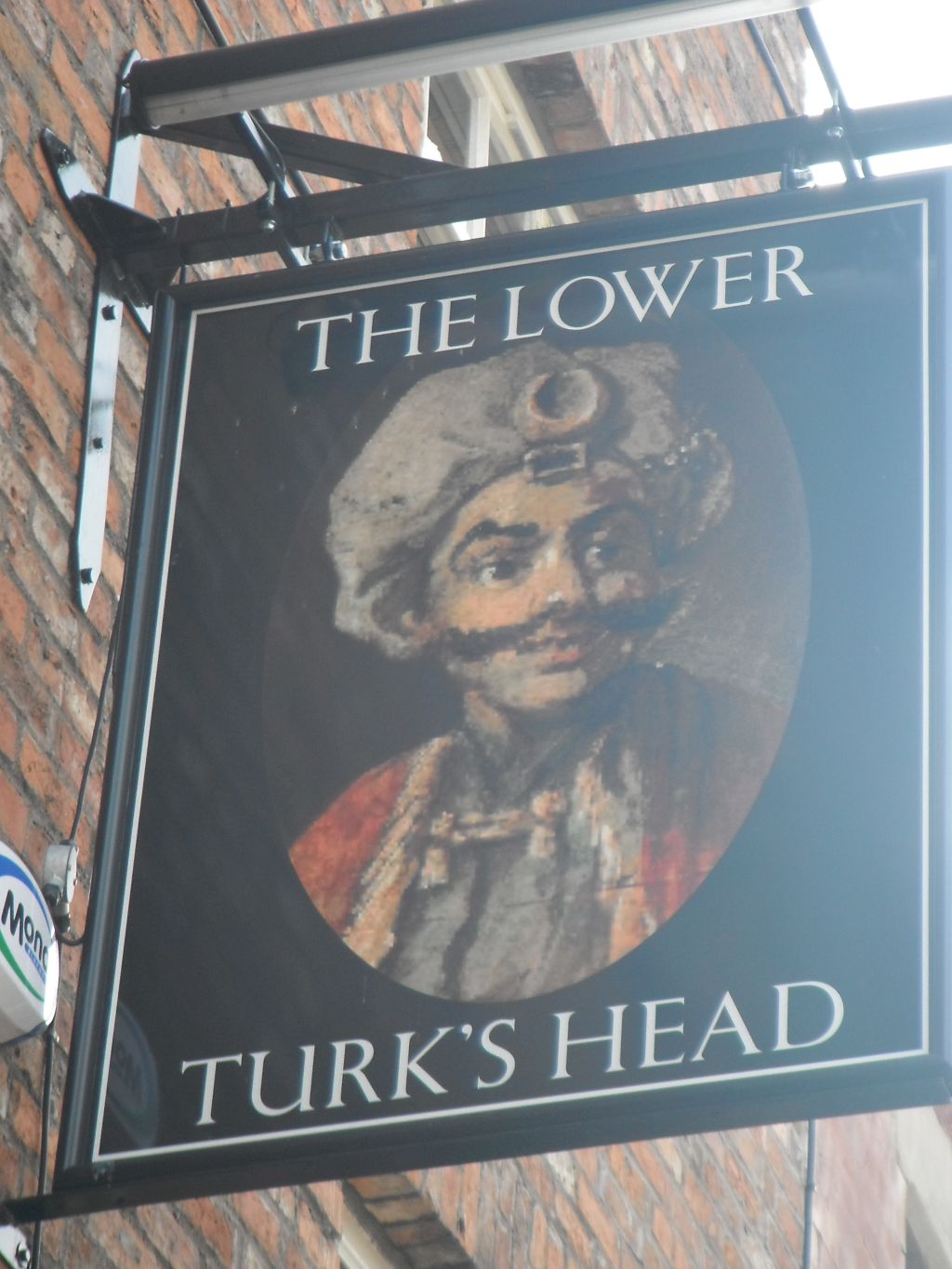 Preston, England
July 3, 2016 6:37am CST
Many pub closures are final, so when this 1745 pub closed up shop in 1991 many of us assumed the worst. The area around Shudehill behind Manchester's Arndale Centre took further communal property loss in 1996 when the main bus station, The John Willie Lees pub and much of the area was badly damaged in the blast. The area was bereft of many pubs, with only the Hare And Hounds surviving relatively unscathed and unchallenged. Astonishingly, in 2013, twenty-two years after its apparent death, The Lower Turks was renovated and reopened as good as new, though in many ways it really is a new pub on the site of the former bar. It is also dramatically extended into the former second-hand book shop next door which is renamed as the Scuttlers Wine Bar. Though presented as adjoining independent bars the Turks and Scuttlers are really one big pub divided into smaller alcoves and cubby holes. You can move freely through from one half to the other where drinking ales or wines. The names need some explanation. The Scuttlers were a notorious street-gang of the Victorian era in the city, operating much like modern American street gangs with initiation rituals, complex codes of conduct, nicknames and secret signals. It is strange to name a pleasant bar environment after a dangerous highly-unromanticised criminal organization. There are lots of Turks Heads bars in Britain, along with the Saracens Head inns. The name has association with the disastrous Crusades of the 9th to 12th centuries, Turkish Barbary pirates and Turkey's links to the Ottoman Empire, as well as a design of cake tins, and a canal boat securing rope-knot configuration. In reference to Turkish people, the sign can have unintentional modern islamaphobic associations but medieval inns were often attached to the great Cathedrals and monasteries, providing accommodation and ales and meads for travellers on pilgrimages as well as for troops preparing to travel off to fight the crusades. Manchester's Turks Heads inns simply took an established popular name and applied it. Yes, there were once two Turks Heads. The Word Lower was simply added to this one because there was once another Turks Head pub on the same road – Lower just meant the one further down the street. The original Turks Head has long since vanished but the word Lower was kept when the current Turks Head received its resurrection into one of the city's liveliest bars and hotels, the pub was once a stagecoach resting inn, so its current offer of bed and breakfast facilities also recaptures its former glory days. The sign shows a bright-eyed slightly startled looking Turkish figure right out of The Arabian Nights, in wealthy robes and turban, with a marvellous moustache. It would be great to see other lost pubs resurface this way. Arthur Chappell
8 responses

• Centralia, Missouri
3 Jul 16
that is indeed quite the mustache....and now, if you haven't watched "A Million Ways to Die in the West", which is silly but entertaining, I bring you, the Mustache song

Skip navigation UploadSign inSearch Loading... Close Yeah, keep it Undo Close Watch QueueQueueWatch QueueQueue Loading... Watch Queue Queue __count__/__total__ Loading... Find out whyClose reirex SubscribeSubscribedUnsubscribe Loading... Loading... Workin

• Preston, England
3 Jul 16
That is fun
@Jessicalynnt
though one music hall moustache song really outdoes it - Mr Poppleton's Moustache performed here by Reginald Pikedevant

A Victorian song about a man who loves his facial hair, perhaps a bit too much.

• Centralia, Missouri
3 Jul 16

• Denver, Colorado
3 Jul 16
Neat history. I guess it is kind of weird naming a pub after a street gang.

• Preston, England
4 Jul 16
@teamfreak16
a book and stage play about the Scuttlers made the name quite popular locally

• Los Angeles, California
3 Jul 16
The Scuttlers sound like the Peaky Blinders. Yes, the Turk is handsome fellow with a majestic moustache.

• Philippines
3 Jul 16
Good to know it was reopened and renovated after twenty two years, as well as it was expanded.


• Philippines
3 Jul 16
That's very interesting, good history and expanation especially why it was " lower Turk" racism was the first thing that came to my mind, pardon my ignorance. Very good post and i learned things i never knew like Victorian gangs and much more that it might trigger me to research further.

• Bunbury, Australia
3 Jul 16
You're right. He does look slightly startled. :)

• Canada
3 Jul 16
I had to refresh this because the picture didn't load the first time. As always an interesting bit of pub history.