The delicious Bagel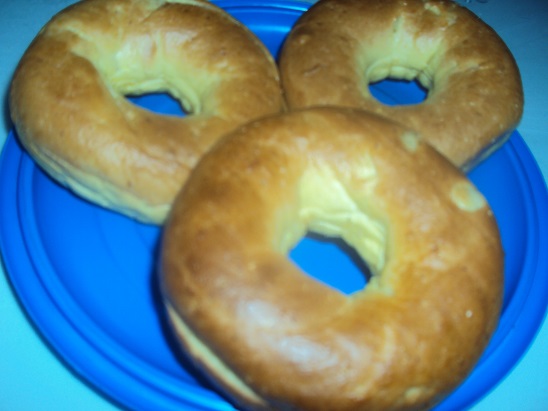 July 4, 2016 3:02pm CST
I bought a bag of corn bagels from the grocery store recently and now I'm hooked. The corn bagels are tasty sweet. I like the plain ones too. I eat them for breakfast and lunch with butter or cream cheese. My aunt serves them with cream cheese and lox. I put them briefly in the microwave to warm. Here's a photo of my corn bagels.

8 responses

• Cuyahoga Falls, Ohio
4 Jul 16
They look good enough to eat.

• Cuyahoga Falls, Ohio
4 Jul 16

• Banks, Oregon
4 Jul 16
I like Bagels with Cream cheese too.

•
4 Jul 16
@TRBRocks420
It's a very filling meal too. I can eat one bagel with cream cheese for breakfast and don't feel hungry until dinner time.

• United States
4 Jul 16
I have never had corn bagels. They sure do sound good.

• United States
5 Jul 16
@Micmac
The bit of sweet taste has me going to buy some! Husband will love them too! Thank you.

• United States
5 Jul 16
I have not had a bagel for year my friend. I would love to try this kind.

•
5 Jul 16
@TiarasOceanView
Same here. I completely forgot how good they are. The corn bagels are very addictive. They are naturally sweet and I was surprised that it is so irresistibly tasty, and the bread is soft. A great meal to have anytime!

• United States
5 Jul 16
@Micmac
Yes very filling I imagine Miki.

• Waikoloa, Hawaii
22 Oct 17

• Green Bay, Wisconsin
5 Jul 16
I love bagels. I've never had corn ones before.

•
5 Jul 16
Haven't tried corn bagels. Can I have one, please? Looks like a donut.

•
5 Jul 16
@rina110383
Of course, take as many as you like my friend. I will save you a bagel. You will beg for more once you've tried them.


• Austin, Texas
20 Jul 16
Corn bagels? That's a new one. My favorite is a toasted sesame seed bagel with cream cheese. I also like toasted onion bagels and poppy seed bagels. If I were to pick a sweet bagel, it would be blueberry bagels.

A recipe for classic New York style sesame seed bagels.