Church Service in Navajo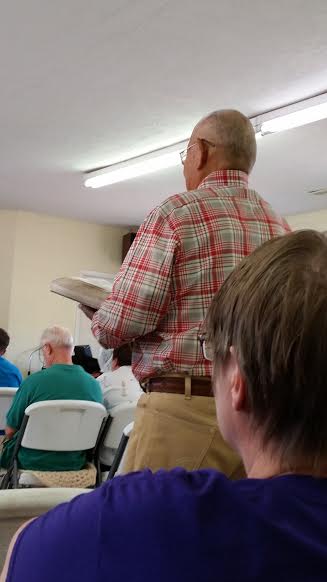 United States
July 6, 2016 12:15pm CST
We arrived at the mission some time after midnight, which was then Sunday morning. We slept then got up for breakfast and the church service at the chapel on the mission. There was one service, which I loved because I knew the songs from the Kansas Bible camp. (The camp is heavily involved in the mission there in Arizona) The sermon was a little long and the preacher kept going on about how he wasn't saved by this, he wasn't save by that, he wasn't saved by this---never saying what he is saved by. After that service, the Navajo man that you see in my picture got up and read from the Bible and did a sermon--all in the Navajo language. He was very good even though the only words we knew were Jesus Christ. I took a video too of some of it. As you can see, we were in the last rows so behind him. I loved it! Then there was a 3rd service with more singing (more songs that I knew from camp here) and a very short lesson and prayers and then communion. Yes, we stayed for all 3 services and were happy that we did. It was an experience I wouldn't have missed. I got teary eyed several times as I sat there being so happy to have the opportunity to be there.
6 responses

• United States
6 Jul 16
When you serve others, you often are blessed. This was a good time away that you needed, I think.

• Rochester, New York
8 Jul 16
What a great experience you were able to have. I bet you will have alot of memories to think back on

• United States
7 Jul 16
Wow that is a lot of services but I have been known to attend church more than once in a day myself.

• Green Bay, Wisconsin
7 Jul 16
That sounds like an awesome experience. I'm glad you were able to participate. Great picture of the meeting.

• United States
6 Jul 16
It does sound like a wonderful experience!

• United States
6 Jul 16
this should be quite an experience for you.Very nice