Challenge Accepted!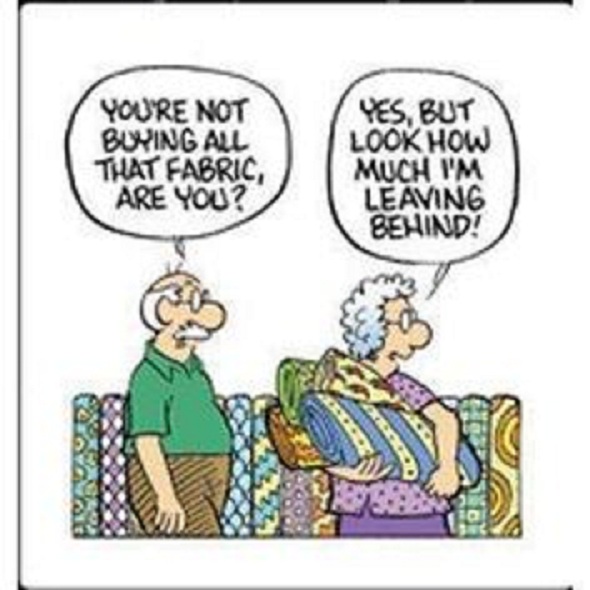 United States
July 9, 2016 3:32pm CST
The gauntlet has been thrown. To maintain my honor, I must take up the challenge. It started with my sewing machine. It started complaining that it was collecting dust and was so bored out of its mind that it was about to jump off the shelf to its death. The Sewing Machine's grumblings inspired the mounds of cloth fabric to chime in. They said they were unappreciated and were unable to fulfill their purpose locked away in their drawers. It was only when I heard them whispering about running away to a nearby quilt shop that I relented.
"Fine, fine!"
I threw my hands up in the air in defeat.
"Things around here are going to change. I promise."
And so, for the past week I've been sewing. As soon as the baby goes down for his nap I pull out my sewing machine and shuffle through the cloth material. I've decided I'm going to try to use up everything I've got. The only thing I've had to buy more of is some black material. I like to put a little bit of black in each of my quilts, if I can. It often makes the other colors "pop" out. For those unlearned in the ways of quilting, here's a quick lesson: A quilt has layers, like a parfait. Everyone loves parfaits, right? So, logically, everyone will love quilts. Ahem. Anyway... First, you need a top. Whatever size you want. It can be as small as a doll or as large as Andre the Giant (R.I.P.). Use an elaborate pattern or just wing it and sew some scraps together. Either way, you now have your top. You'll need a middle. That middle is called "batting". I like to use 100% cotton batting. And then you have the bottom, which is called "backing". This is just a giant piece of material that will, um, be the "back" of your quilt. I usually buy a new top sheet from the store to use as the backing. But I didn't want to go out and buy anything, so I've been making my own backings. This has created an interesting twist that I had never thought of doing before. Instead of a quilt with one "pretty" side, I've got a quilt with
two
pretty sides. A
reversible
quilt.

I'm a genius, I know. I've discovered I can whiz pretty quickly through the fabric. This week I've made 3 quilt tops and 2 quilt backings. If I can keep truckin' on, I might have my fabric stores depleted before the end of this month! And then,
ahhh!
Blessed silence. That is, as long as my yarn doesn't join the rebellion... Have you had any inanimate objects egging you into action?
8 responses

• United States
9 Jul 16
I have enough stereo equipment to create 500 kajillion different set-ups. I've been hauling everything out of storage and figuring out what works best with what and what will make my neighbors move far, far away.

But seriously...I think I may actually have
too much
equipment...and someone last night asked if I wanted some old Altec/Lansing PA speakers they aren't using anymore...I don't need them, have no use for them, and of course I said yes.


• United States
9 Jul 16
Maybe you could start a resell business...or invent something that'll drive the feral cats away? Like a dog whistle, but for cats! Could you tweak a stereo to do that? The Pied Stereo of JJ. You'd just need to put some ear plugs in Scar's ears so he wouldn't be affected... sigh. Anyway, that's how I am with material. If someone's giving it away, I'll take it. Even if I've already got boxes and boxes of it.

• United States
9 Jul 16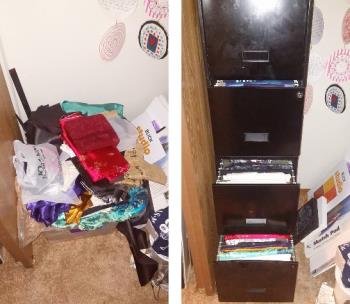 @Genipher
I just gave my sister-in-law some two-drawer filing cabinets, she's using them for storing material. Guess she had a bit of a mess, here's before and after photos...

• United States
9 Jul 16
@JolietJake
Wow! That looks
so
much better! The filing cabinets are a good idea! I had a similar problem. All my material and whatnot had been stored in plastic tubs. Out of sight, out of mind. I finally found an old entertainment center with drawers and cubbies to organize my stuff better. I now call that area my Sewing Center.


• Northampton, England
10 Jul 16
My ironing pile is harrassing me.

• Northampton, England
10 Jul 16
@Genipher
I've just killed it. I find it really hard to sit still and watch TV so I ploughed through everything whilst watching the tennis.

• United States
11 Jul 16
@boiboing
Bet you're glad to have
that
monkey off your back, eh?

My grandma is probably disappointed in the fact that I don't
do
ironing...but I'm just too lazy. Or maybe it's just that I'm not good at it. I've tried to iron clothes but when I'm done the garment looks the same as when I started...


• United States
10 Jul 16
Years ago I started cataloging my doll collection. It just never quite got finished. Then the dolls gradually became ignored (and likely depressed), so that's where it stands. I tune out their grumbling.

• United States
10 Jul 16
@Genipher
I'd love to see photos of your quilts when you get through.

• United States
11 Jul 16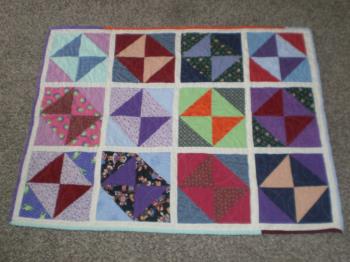 @1creekgirl
Cool. I'll have to make a brag-post when they're done to show 'em all off.

Here's one I made some time ago. I think I gave it as a baby shower gift...


• Pittsburgh, Pennsylvania
9 Jul 16
@genifpher
My books are calling out to me, so i am going to start reading them. Other than that, i never really had anything call to me. I have a sewing machine, but i cannot do it. It just gets messed up, and the bobbin comes undone and it is a big mess so my sewing machine us relaxing in the attic. It would find me too stressful!

• United States
9 Jul 16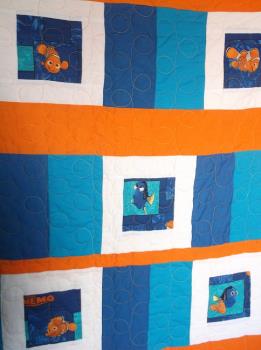 Sounds like the tension might be off. In your machine, that is, not you! Mine was acting up a bit yesterday. I had to keep re-doing the bobbin and adjusting the tension. It can be frustrating at times. But I love seeing my projects come together.

Oh, here's a brag-picture of a quilt that I sold. This is one of the odd-balls that doesn't have black material in it.

• Pittsburgh, Pennsylvania
9 Jul 16
@Genipher
Thanks for the advice! I think your quilt is lovely! Even if it doesn't have black it is still gorgeous!


• India
10 Jul 16
My mom is like you, never says no to any material. The house is overflowing but we love the quilts she makes. Those have a top and bottom layers only though I need to finish embroidering some flowers on one of my outfits ,maybe I'll get down to it tomorrow


• United States
10 Jul 16
Your mom doesn't put some kind of batting in the middle of her quilts? I have a friend who makes "quick quilts" with flannel. It has just a top and bottom and isn't really "quilted" with a machine. Actually, I guess it's more of a "quick blanket".

• India
10 Jul 16
@Genipher
Its not really a quilt , more of a light patchwork cover which we use in the summer. She makes the top from different coloured patches and then buys a cotton bottom. But now that you mention , a friend to whom she gifted one, put in a foam middle so that it could be used in the cold season.

• United States
11 Jul 16
@responsiveme
I'd also forgotten to mention, in my post, that I don't do the actual quilting. A friend of mine has a quilting machine and I usually pay her to sew the three parts together. And then I bind it when it's done. She does beautiful work, though.

• Holiday, Florida
9 Jul 16
my beads. I so miss beading but no patience for it any more. usually I used to have company to talk with while doing it. no company these days.


• Holiday, Florida
9 Jul 16
@Genipher
always. I have tons all through my stuff. boxes, jars, hanks, and even just bags with beading supplies. used to make native American beadwork of all kinds

• United States
10 Jul 16
@bunnybon7
Oooooh! Do you have any pictures of your bead work?

• New Delhi, India
9 Jul 16
No I didn't have any object.

• United States
25 Jul 16
My craft/sewing room is about to walk away...as you might have seen in 4 of my recent posts. Time to get busy, and stay that way!