The Baby Blanket Quilt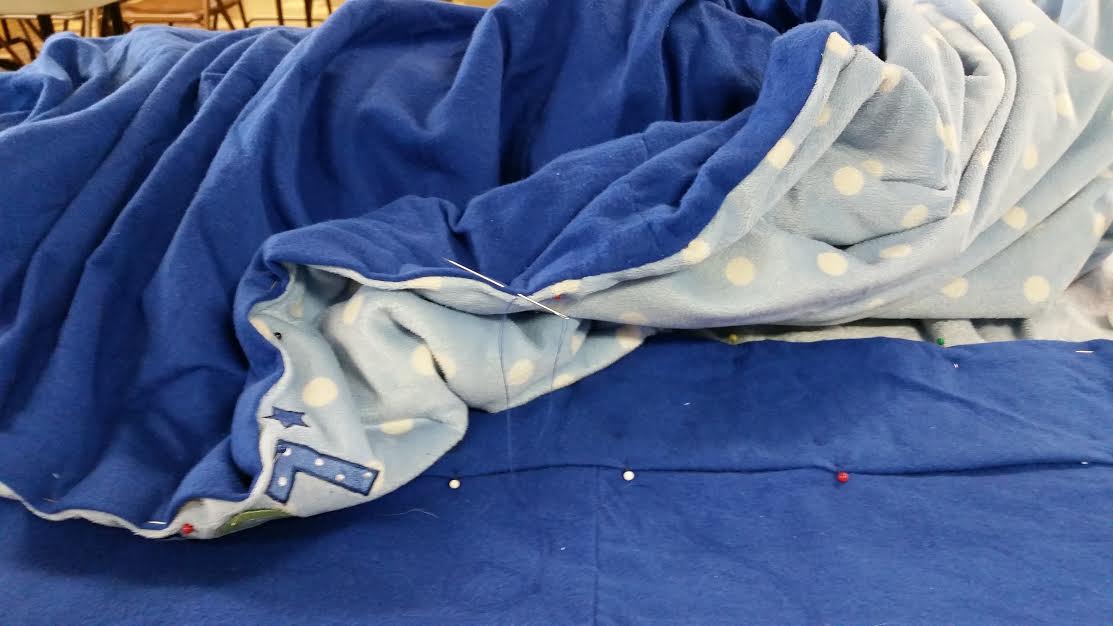 United States
July 13, 2016 11:54am CST
A member of our church had this idea to sew together all of her son's baby blankets, then to ask our sewing group to finish it for her. It's been hard. All of the blankets are different fabrics, different sizes, and different thicknesses. We decided it would be easiest to do the backing in the flip way. It's where you put the fabrics right side together and sew then, leaving a space to flip it around when done. That was fine, but when the lady's were cutting off the excess, they accidentally cut into the backing. That is what you see if part of the picture where I am attempting to repair and cover up their mistake. The top is where I am sewing closed that opening. We still will put some ties throughout it as well. I assume as with the last quilt she asked us to finish for her that she will donate a bit of money to the church for our work. I just love my time each month at sewing club at church even though it's a full day. I love sewing as well as the socializing. I just need to force myself to get off of the computer and work on my sewing and crafts at home too!
9 responses

• Canada
13 Jul 16
The quilt looks great and comfy too. My step mom feels the same way about sewing, she has tons of fabric as well.

• United States
14 Jul 16
I'm not sure what the lady is going to do with it. Her son is older than I am.....well, I am guessing as I didn't even realize she had a son, but the blankets are all blue.

• Roseburg, Oregon
13 Jul 16
The baby quilt does look nice. I was never able to sew. I can not sit still that long.

• United States
14 Jul 16
I have a 3 day quilt retreat at the end of the month. I so look forward to 12 hour days dedicated to sewing. My back will ache, but it's worth it.

• Green Bay, Wisconsin
14 Jul 16
That sounds very interesting. It looks like a fun project to do, not the part where you need to repair it, but putting all those different baby blankets together for a quilt. I know and understand your problem for getting off the computer to do other things. I have the same problem.

• United States
21 Jul 16
Sigh....I didn't even do litter boxes today....and I can smell that too.

• Green Bay, Wisconsin
22 Jul 16
@marsha32
I went shopping - a girls best activity.


• Canada
14 Jul 16
That looks like such a comfy quilt. That sounds like a nice get together. I loved the knitting class I joined last winter at the library. I made some slippers and now, all these months later my husband still doesn't have the slippers I was intending to make immediately!

• United States
21 Jul 16
oh boy...let's not talk about projects started months ago.... I put everything in a bag to work on finishing a quilt that I put the top together 2 years ago. Of course many quilters have some they've had for years and years...some never get done and you end up finding them at estate sales.

• United States
13 Jul 16
I would enjoy a group like that too. So glad your church has that group. I do love to sew.

• United States
14 Jul 16
I was so elated when a church member decided to start up a sewing group. At first I just went and helped iron and cut fabric then hubby bought me my own cheap sewing machine.

• United States
15 Jul 16
@marsha32
I have a cheap sewing machine too and I love to sew by hand too. I am going to see if there is a group around here. I would enjoy that.

• United States
14 Jul 16
We would tend to agree with you!

• United States
21 Jul 16
oops! sounds like somethin' i'd inadvertently do. i'm sure the lady's gonna be most delighted to get such. i hope ya get to tacklin' those projects'f yer own :)

• United States
21 Jul 16
Changes need to be made by me for sure, even if that change is just to step away from my desk for even 30 minutes or so a day to work on something else.

• United States
21 Jul 16
@marsha32
yes ma'am, better fer ones physical 'n mental health to jest walk 'way from these gadgets'n get a bit'f real livin' done :)

• United States
21 Jul 16
Sounds like it will be real cute and special when it's all done.

• United States
21 Jul 16
We used a nice soft fabric on the back too so yes, if someone wanted to use it for a blanket it would be warm and cuddly.

• United States
7 Aug 16
I would like it if our church or community sewed together. I have known people who say they want to. We do not actually have a place, though.