New neighborhood: awesome park!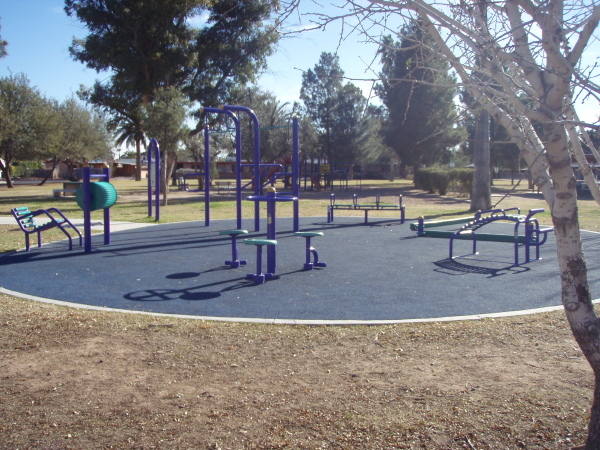 United States
July 15, 2016 3:19am CST
I walked to the neighborhood park yesterday. It's about a third of a mile away, more with the alleyways I took, and though its' small - maybe a couple small blocks in size - it packs a lot of fun into it. There are the obligatory trees and grass, a dog park area (scooping mandatory) with water fountain and attached water bowl, play equipment, and a full service outdoor fitness center including instructions on how to do all the exercises. It's great! A very fun part of my little excursion was the wildlife on the back alley bike path I used to get partway home. I saw a great big rabbit, a nicely sized lizard, many tall cacti, and a stand of bamboo, too! Bamboo. Growing out of the back of someone's yard. So cool to see. My plan is this: To walk to the park and back as often as I can, in the mornings before it gets really roasting out. Once there, hang off the chinning bar (I have to use the jungle gym, I'm so short) for as long as I can. Try to increase my time. Eventually after I've gained enough strength and lost enough weight, do a pull up. Then more. After it gets really easy and quick to walk to the park, I'll add a backpack or weights. I don't want to increase my distance because I only have a certain amount of time to walk in. It's so cool to see a park with opportunities for exercising, climbing, and playing for people of all ages. I can't tell you how long it's been since I've seen a real jungle gym!
9 responses


• United States
15 Jul 16
That's so true! I'm not used to them yet.


• United States
15 Jul 16
When I was there, not many were in the park - but it was already getting warm. More would probably be there earlier and later.

• Philippines
18 Jul 16
@Rohvannyn
I like the facilities in the photo you posted. It seems to cater people of all ages. Not only kids...

• United States
18 Jul 16
@Dextoi
Yes! It's very good for adults and kids both.


• Moses Lake, Washington
15 Jul 16
Sounds sweet. Go you. You can make that goal and I'm glad you are working health into your hours. Pretty photo.

• United States
15 Jul 16
I didn't take it, but I want to take some soon. There's a balance beam so I will be using that too. Maybe even take Gina (my neighbor/coworker) over there and throw stale mini tortillas for her big galoot of a dog.

• Moses Lake, Washington
15 Jul 16

• United States
15 Jul 16
A couple friends at work are doing something similar. I love community!


• United States
16 Jul 16

• Canada
16 Jul 16
@Rohvannyn
Almost makes me want to move to the city

• Centralia, Missouri
16 Jul 16
they do make some nice velco weights!

• United States
16 Jul 16
Yes, they do! I'll probably use my existing hand weights and then a backpack.

• Centralia, Missouri
17 Jul 16
@Rohvannyn
I also march, or wave my arms about, I know I look dumb, but my dog doesnt care, and honestly people think I'm batty anyways lol

• Lenox, Georgia
15 Jul 16
That is a nice park! We have a park across the street from my home and that was one reason we really liked this house.


• United States
15 Jul 16
Definitely good. It closes at about 10:30 at night.

• New Delhi, India
15 Jul 16
Park looking fantastic. I also see jungle gym long time ago