The way you relax is........?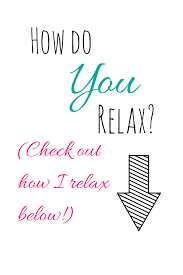 7 responses


•
16 Jul 16
This probably the best way to relax....

• Austin, Texas
19 Jul 16
Listening to music is a great way to unwind at the end of the day. But our CD player isn't working and I don't have a playlist set up on YouTube or playlists created by others that I like to listen to. Sometimes I'll watch a program or movie and probably fall asleep.



• Canada
18 Jul 16
When I am having a good day I try to write but it doesn't come easy anymore. So I might color in my adult coloring book because it makes me feel good. Maybe do chores... Try to be creative too. Other times I get lost in music or a movie.

• Philippines
18 Jul 16
It really depends on my mood but when I need to relax, I usually go to the gym to train. Listening to music is also another way for me to relax as well as reading a book or two.

•
16 Jul 16
Same pinch! Music acts like a therapy for me and a cup of steaming tea alongside it helps me unwind a lot!


•
16 Jul 16
I too hear music especially classical music during my free time