Cat Bruising Up My Legs

United States
July 16, 2016 11:51am CST
I have two cats and one is a "mama's" girl. She is a 7 year-old Manx named Shelby Ann and I've had her from first born. When I lay on my bed like I am now to play on the computer, she lays on top on my legs. Lately she has this bad habit of jumping up and deliberately standing on my legs. I have to boot her off because it hurts. She weighs 16 pounds (lost some, whew!) so now I have bruises all the time. Do you have a loving animal that ouches?
5 responses

•
16 Jul 16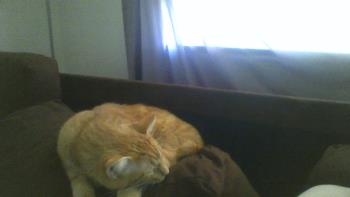 That's how my Garfield is he's a big boy and such a loveable guy. He's love attention but when he pounces on you OMG!!! lol. He's learned to pick up on me with some of my issues though and he tries not to with me it's funny cause he will like study his surroundings for a minute looking very carefully then when he thinks he's got it he'll jump over me to get to where he wants to lay which is usually somewhere my head as close as can get,lol or down by my legs especailly when Im having a flare up. He's such a loving comfort to have around just long as he doesnt pounce on you,lol.

• Fairfield, Texas
16 Jul 16
I now have 16 cats
@noni1959
. Yes, they call me the Cat Lady. I just rescued a Siamese and she had 4 babies. One of the kittens (now 4 months old) likes to leap onto my back; claws buried. Yeowza!!!! All 4 of the little buggers think I'm a climbing tree.

• El Paso, Texas
16 Jul 16
I did in the past, she too was about 16 or so pounds and loved when she could sit on my lap, legs or if I was laying down reading a book she'd be on my back. Now that you mention it it did kinda hurt but looking back I only remember how funny I thought it all was.