Old Man - Old Pix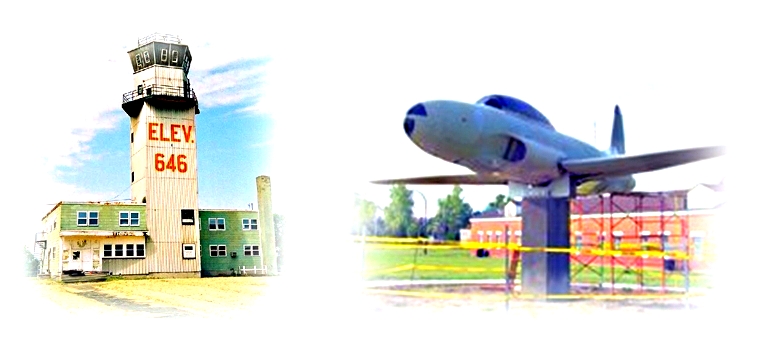 Goodfellow, Texas
July 16, 2016 12:37pm CST
Old Man - Old Pix In the scheme of things, it is acceptable for me to be considered "an old man." As I pore over my collection of photos, it is accurate to declare that most of the photos are rather old, too. With all of the dreadful terror crap, killings, and hurtings going on in the world, you might think that I would have better things to do than to go into photos saved from back in the days of some real military conflicts - but that's what I did this morning. That bowl of Cheerios and sliced bananas all done with, out came some pix from the file of scenes saved on the computer - things from back in the 1950s and on through the times up to around 1999 or thereabouts. Copied here are two of those pix. One is of the old control tower by the long runway at the Sampson Air Force Base air strip. It is a photo of that control tower made by a good man, Ron Plante. He made a ton and a half of good photos of the old Sampson base left-behinds; that is, of the buildings and fields that had decayed to ruin after Sampson was abandoned back in 1956 and left to go to seed. The other photo is that of a USAF T33 jet aircraft, the type of jet in which jet pilots learned to fly back in the day. This particular T33, now re-named as "The Spirit of Sampson," was actually rescued from total decay and toss-out by volunteers from the ranks of the Sampson Air Force Base Veterans Association. The building to be seen behind the display of the restored jet trainer is the large, now fully restored "stockade" (military jailhouse) that, today, houses the big museum created in cooperation between the Air Force and the Navy veterans, both of whom had basic military training bases at the Sampson location. * * * * * * * * * * Image source: Ron Plante and "Unknown USAF veteran" * * * * * * * * * * You can see more and learn more about Sampson and other Sampson sights at the veterans' active website, linked here:

Sampson Air Force Base Veterans Association Inc. Military Membership Basic Training
5 responses


• Goodfellow, Texas
16 Jul 16
@Marcyaz
- Sampson Air Force Base was located at Romulus, New York, about midway 'twixt Geneva, New York (northern end of Seneca Lake) and Ithaca, New York (southern end of Lake Cayuga). Seneca Lake is about 44 miles in length. Romulus (not a "real" town any longer) is on the eastern shore of Seneca Lake. What used to be "Sampson Navy Training Center"in WW-II times and "Sampson Air Force Base" (Korean War days) are gone save for a very few old buildings and the refurbished stockade (jail) which is now a museum. Save for a new veterans cemetery where once stood the biggest hospital in the Air Force, the rest of the place is today a very fine state park. That AF base in Oklahoma might have been Tinker AFB, and, perhaps the one in California was March AFB or maybe Park AFB. Military bases come and go. Some are reused by the military for one thing or another. Some are abandoned or turned into civilian-oriented affairs. For instance, in my home town's harbor there is a small island that long housed the army. The feds sold it off and it is now a high-cost housing area. Interesting stuff.


• Goodfellow, Texas
17 Jul 16
@Marcyaz
- Many of us have long wondered if the closing of shabby and freezing cold Sampson AFB was due to its almost total lack of base housing and the "attitude" of civilians residing in the mostly rural area for miles around the base. Some GIs actually had to live with their families in renovated chicken coops and barns, etc. My bride and I lived about 85 miles away from the base. Quite a trek back and forth every day... I think that the senior brass got tired of all that, and the big folks in the Pentagon became tired of listening to all of the complaints. One day, they just up and closed the base. How big a place was it? At its peak, there were probably 30,000 military serving there, plus lots of civilian workers. The base hospital, wherein I worked, went up well over 1,000 beds and was then the largest hospital the Air Force operated. Land-wise, Sampson covered probably 2,000 acres, maybe more if you want to count the almost mile-long air strip. Sampson was not alone in that area, either. Across the highway was the Seneca Army Ordinance Depot. It was a biggie. Large enough and secure enough for the storage of nuclear weapons, for example. Interesting fact about that Seneca Ordinance Depot facility. It was very secure, armed guards patrolling constantly, and surrounded 100% by a tall, barbed wire-topped perimeter fence. As a consequence of "no visitors" and the like, a herd of mutant white deer sprang up and multiplied over time. (These were not albino deer but were possessed of white fur instead of brown fur.) The weapons storage depot is no longer used for that purpose, but has given over to New York State uses such as training facilities for state troopers, practice air operations for water-dumping (fire-fighting) aircraft, and there is a large and secure penitentiary built and operating either on or right behind the depot area. The whole area is still populated mostly by the rurals; however there are now many "summer" homes and "city-folk" dwellings that have been spotting the landscape around there in recent years. Summers in that region are wonderful, but the rest of the year is so cold around there such that your mind, your ears, your fingers, your toes, and your automobile engines all tend to freeze at the same time.



• Goodfellow, Texas
17 Jul 16
@jaboUK
- Ms Janet - No scanner? No digital image files? Your method of snapping a photo of the old photos using your new camera is certainly a fine way to get them into your computer.In fact, if you focus the camera lens carefully and steady the camera with a tripod or some solid base (a chair back, a table, etc.) your new shots with the camera have a good chance of being more satisfactory than using an ordinary 300dpi scanner. The two images (circa 1960s and 2002 plus or minus) used with this posting were already in the computer as digital images, both made by someone other than me. I "sharpened" the lines of the T33 aircraft image using one of the photo editors and made the collage using PhotoScape and one of its many choices of picture "frames." Old photos for old folks - the way to go, right?

Here's a "how-to-do-it link for those who want one... Have fun.

Shooting Pix of Pix with Your Camera Today I was asked how a person might get their old photos into the computer should they not have a photoscanner attached....

• Goodfellow, Texas
17 Jul 16
@jaboUK
- Ms Janet - Pleasing you is the same thing as making me smile.



• Goodfellow, Texas
16 Jul 16
@skysnap
- Let us consider that question a wee bit. (Considering the question) "1,2,3,,,30,31,32..." (End of considering) That brings forth THIS question: "Do you still wear diapers or have you gone on into boxer shorts with elastic beltlines?" Aging leaves "Pampers" behind, quite literally.


• India
16 Jul 16
Simple quote is there that Old is Gold

• Goodfellow, Texas
16 Jul 16
@sunilparthan
- Hi Sunil - A prideful quote, that one. Perhaps it could be twisted to be "What's been told is old."


• India
16 Jul 16
@Ceerios
ha ha here I don't want to twist it. And time is moving so fast so every one have to get old ... not to get old actually we are getting old every second.

• India
16 Jul 16
Were you with the US Airforce?

• Goodfellow, Texas
16 Jul 16
@responsiveme
- Ms Arundhati - Yes (14 years)