Do you believe in KARMA?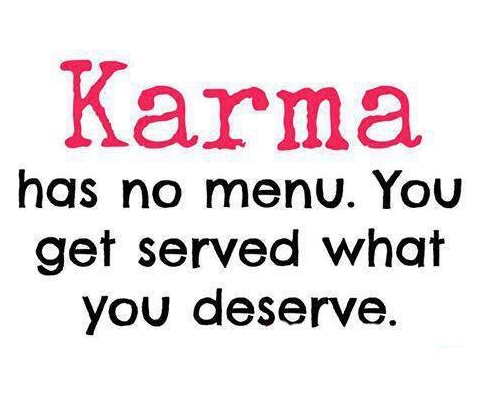 India
July 17, 2016 12:27pm CST
Of late, I've been going through articles on KARMA and have come across some great inspiring quotes on Karma. Some of it is so realistic that you can actually relate it with day to day life. The two best of the lot is where 'Karma is compared with Boomerang' - what goes out, comes back, so profound n practical. Whereas, the other one says ' Karma is like gravity' - whatever goes up has to come down as per law of the nature. Do you believe in Karma?

9 responses



• United States
17 Jul 16
Yes I do, that's why I haven't retaliated against a certain someone that hurt me pretty badly at the beginning of this year. I just think my happiness is because I've learned to let things go and this person will get what's coming to them eventually.

• Garden Grove, California
17 Jul 16
Yes as whatever bad deed yhou do its not forgotten as it will come back and bite you i n'the butt You get what you deserve. do good' good will be returned

• Pensacola, Florida
17 Jul 16
Yes though the term Karma is not mention in the Bible it is there by the phrase whaat you sow you will reap which is the same thing

• India
17 Jul 16
Yes.. i believe karma theory..and we see some experience from peoples..they receives what they send..is this in any ethic?..

• Roseburg, Oregon
19 Jul 16
When someone does something bad to another person they deserve it when karma comes back around to you.

• Philippines
20 Jul 16
I truly believe that whatever you do it will come back to you. Yes I do.