Grief and a friend lost.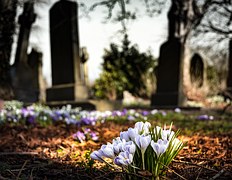 Australia
July 17, 2016 9:01pm CST
Recently, I attended the graveside service for the funeral for one of the locals. I was surprised by the bright balloons and streamers all around. This guy wasn't all that well known to me as I've not ever spent a lot of time in his company. He worked in the next town as a butcher and he always made me laugh and feel good. I suppose he was charismatic that way. He made me feel special and so he was special to me. He went up in my estimation one day while he was driving home from work and I had broken down. He stopped to offer help while others drove past. I've only lived here for 10 years so the town has not gone out of their way to be friendly which I'm OK with but I will miss this chappy in a huge way. I think that given the opportunity we could have been better friends and I wanted to grieve his passing and feel sad among his family and friends. The wake was in a hall and there were even more balloons and other cheery party decorations. I understood the family wanted to celebrate the loved one's life but to me this was really inappropriate. Good bye Lee mate.
7 responses

• Bunbury, Australia
18 Jul 16
It seems to be part of a butcher's nature to be chatty and friendly. As you say, you will miss him. Country towns aren't quick to welcome 'newcomers' are they? Ten years is a long time for people to accept you.

• Australia
18 Jul 16
I joined things when i first came but it became increasingly difficult to participate. my invites for coffee were ignored and I was not invited anywhere. I've given up and keep to myself. Sometimes people say 'hello' and sometimes it's as if they don't see me. i'm OK with that.

• Bunbury, Australia
18 Jul 16
@MsTickle
That's very sad. People can be really cruel and hurtful sometimes.

• Australia
21 Jul 16
@JudyEv
What I find sad is that most of the locals have lived here all their lives and have not been anywhere or experienced life outside our little village. They are very close minded and the highlight of their day is something or someone to gossip about. There were some very juicy and embarrassing rumours going round about yours truly when I first appeared on the scene.


• United States
18 Jul 16
That is what I would like as well.

• Garden Grove, California
18 Jul 16
It does to me too but some people see it differently and celebrate it like a party

• India
18 Jul 16
that is supposed to be done.i am sad that you lost a good friend. may his soul rest in peace.

• Roseburg, Oregon
18 Jul 16
That is what the family wanted so i guess it is alright. They wanted to celebrate his life a lot of places do that.

• Waikoloa, Hawaii
4 Nov 17
its really sad when you Lose a close friend even a kind neighbor of collegue

• Centralia, Missouri
18 Jul 16
he might have asked for that, some people want their wakes or whatever one calls them to be a time to remember, and have a smile