Pub Sign Study The Bakers Vaults Stockport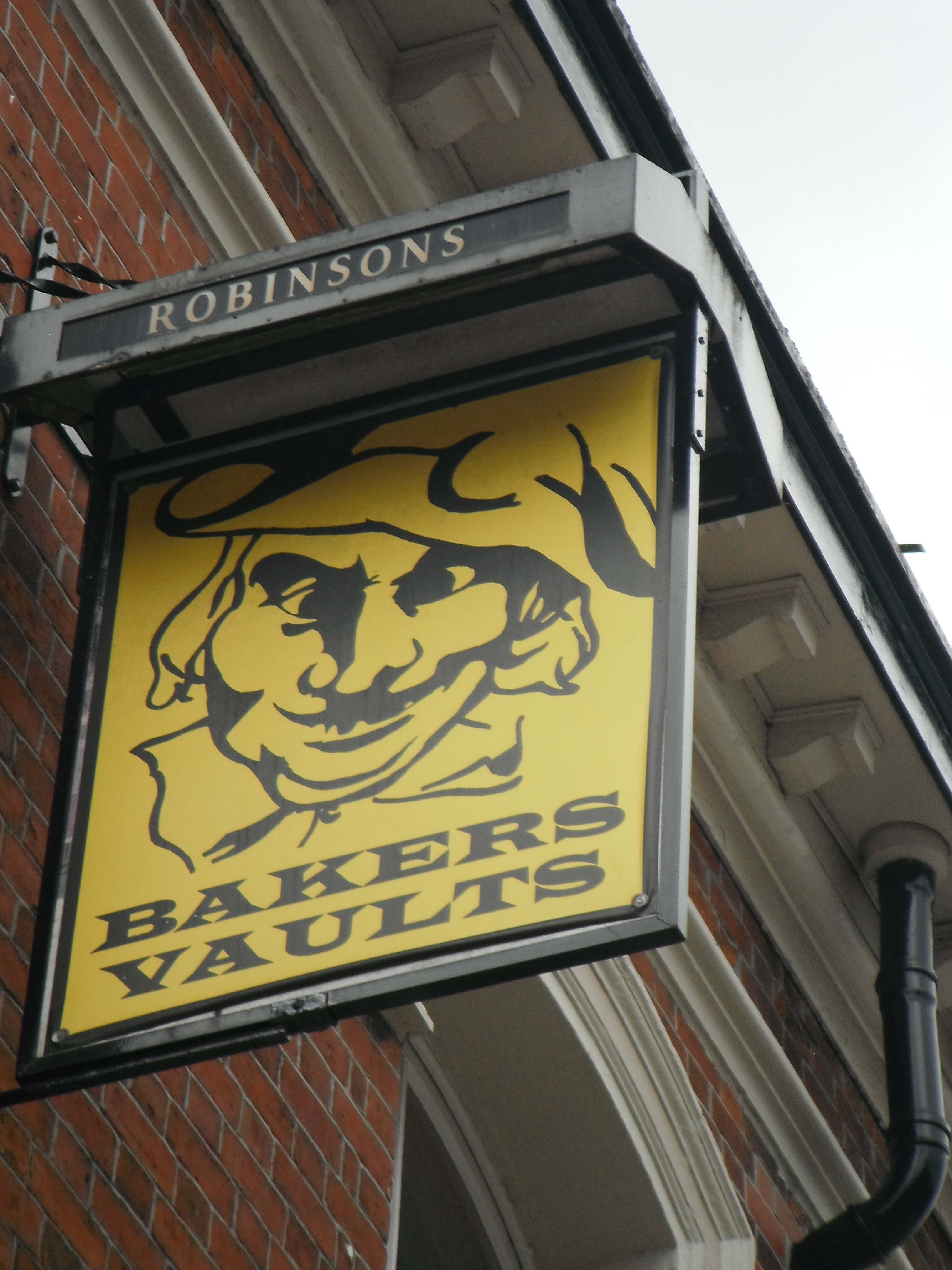 Preston, England
July 18, 2016 2:24am CST
Nothing to do with food and catering, Bakers is a family name in this case. A pub has existed on this site since at least the 1770's though the original inn was called The George And Dragon, and twice the size of the 19th century Baker's Vaults now standing on the edge of the Stockport town centre Market Place. A group of army soldiers were given a billet here in the 1820's. The Bakers, who were owners and landlords in the 19th century, were powerful and influential local merchants, who owned many businesses in Stockport and gained considerable respect in the communities. Charles Baker, the second of the family to own The George And Dragon, entered local politics, serving as an elected councillor and as mayor of Stockport. The original pub was demolished as part of a plan to roof the then open-air street market, a roof design that it retains to this day. The new pub was opened with the name Baker's Vaults in the 1920's. The Bakers were keen wine merchants as eager to promote quality wines as well as ales, and the word Vaults refers to their extensive wine cellars. Charles Baker was often criticised by political rivals for running a bar serving gin and wines. This was a time when cheap gin was leading to considerable social unrest and pubs were under attack by religious temperance & teetotal movements. Charles Baker's pub brewed its own ale on site, rather than depending on outside breweries. The pub was originally partitioned into various smaller rooms, or snugs served via hatches in the central bar area. Now a popular live music venue, the Robinson's Brewery owns the pub. The sign depicts a black on yellow book illustration style drawing in deep lines, of Charles Baker, grinning down at the onlooker, showing some pride in his premises and the town he served so memorably for many years. This has since been replaced by a far less appealing sign. Arthur Chappell
7 responses


• Preston, England
18 Jul 16
@Inlemay
I usually have to look through my notes to remember details on the sign histories

• South Africa
18 Jul 16
@arthurchappell
well thats good - I have to make notes when i take photos as well because when I get home and have 1000 photos to edit, sometimes I forget what I was looking at or what attracted to me to the picture

• Preston, England
20 Jul 16
@Inlemay
I have a few sign photos from the early days of collecting them for which I can't remember which pubs they are off - there are several pubs with some names - since then I keep notes as I go to be sure of keeping up

• Denver, Colorado
18 Jul 16
I thought Mr. Baker was some sort of villain at first glance.

• Preston, England
20 Jul 16

• United States
18 Jul 16
@arthurchappell
what a great little walk through a bit of history. It is always interesting to learn new things.


• Centralia, Missouri
18 Jul 16
I stared at the image for awhile, it felt like one of those drawings that should have more than one image in it, depending on how one looked at it.

• Los Angeles, California
18 Jul 16
The guy in the sign appears more sinister than a merchant. But then that is realistic!

• Bunbury, Australia
18 Jul 16
The cross-eyed guy on the sign wouldn't inspire any confidence.