Smartphone has ruined the Relationships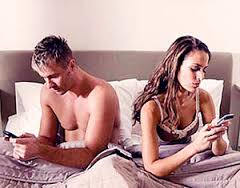 Hyderabad, India
July 18, 2016 11:24am CST
Though I do accept the advantage of having a smartphone at the same time I do agree that this 'click machine' has spoiled the relations more than making them stronger. Texting a message to a near and dear may save some money from data pack or talk time. But, what about the gap that is widening between the sender and receiver is of great concern which most of us not realizing. The message is no doubt conveying information. But, it always blankets the tone of the message. The interest the receiver is shown for the message is not known. It though not always, but most of the time leads to misunderstand Can't we just click on the number and talk to a person and avoid such misunderstandings? Can't we try to know whether the person talking to is interested in the conversation? Can't we build up the personal relationship inquiring about him and his kith and kin instead of texting a message in a routine fashion? In most of the times, the texting is leading to misunderstanding a person at the other end and vice-versa. It is not serving any meaningful interactions. It is blocking the personal sharing and showing everything in a opaque glass door. It is making us losing real world. We are getting attached to the meaningless approvals online Totally blocking to interact with the people we know.
8 responses

• Santo Domingo, Dominican Republic
18 Jul 16
This is very true, Smartphones have seperated us from our loved ones the daily basis

•
19 Jul 16
I only use my phone as an alarm clock.

• India
18 Jul 16
I don't use my phone to call someone unless there is emergency and texting has been a history thing for me.

• United States
18 Jul 16
i don't text, period. i've e'en known 'f folks who were sittin' 't their dinin' room table textin' each other. utter nonsense. so much's been lost to this modern technology - the ability 'f our youth to spell 'n put thought into their words comes to mind. some text each other constantly, givin' a detailed perspective 'f their day...'r jest to share mundane schtuff they've picked'p off the net. what do these folks talk 'bout when they're home from their day?? sad state'f affairs...


• India
18 Jul 16
Yes i do believe the same. because of these phones and internet, relationships dont have that much strength which had in earlier days.


•
19 Jul 16
Truly agree with you. Smartphones connect us with those 100 of miles away and disconnect from our families sitting in next room or neighbours..