Gratitude Challenge Day #719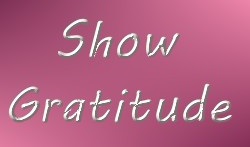 United States
July 18, 2016 11:26pm CST
Hey there, everyone. I meant to post this before midnight, but I was multitasking lol. Sooo, here is my Gratitude Challenge for Monday, July 18th. 1. There is still work left from one of my favorite clients, so I have been working on those today. 2. WWE Raw is on right now, and WWE Smackdown Live is on tomorrow night. 3. My friend, his daughter & I are going to WWE Raw in September, and we have good seats. :) 4. Chatting with my family and friends during wrestling tonight. 5. I grabbed two orders for tomorrow (a team order and an open order). :) 6. I'm caught up to my comments on here (for now lol). Alrighty, I'm gonna get ready to wrap things up for the night. I'll try to make at least two posts tomorrow, but I cannot promise anything lol. You all have a good night/morning and a great week, and take care! :) Photo Credit: I made this graphic using PhotoImpact 6.
6 responses


• Green Bay, Wisconsin
19 Jul 16
Awesome that you were able to grab a couple writing orders

. It's great you're going with friends to WWE Raw in September. That will make the experience that much better.

It's always wonderful to chat with friends and family, it brings everything close to home. I hope you had a great night's sleep.

• United States
22 Jul 16
Thanks! I'm in the middle of the usual "Summer Slump" so I'm grateful for all the work I get. I love going to WWE shows with family or friends. I mean, I'd go alone if I had to, but I would prefer to go with people. And I love a good chat, even if it causes me to procrastinate. ;) Thanks, I hope you have been sleeping well too!

• Green Bay, Wisconsin
22 Jul 16
@tammys85
The heat makes it uncomfortable for sleeping, but otherwise it's good. I can imagine going to WWE would be better going with family or friends.


• Philippines
19 Jul 16
Sounds like you've been making strides at work. Good for you! I bet you can't wait until September to watch Raw.

• Philippines
22 Jul 16
@tammys85
good for you! Enjoy the show and for sure, you'll make a post about it here in myLot.

• United States
30 Jul 16
@allen0187
Thanks! I'm sure I'll mention it! :) And pleaseeeee let Smackdown be the next one lol.


• Philippines
19 Jul 16
There will always be something to be grateful each day.

•
19 Jul 16
You are really lucky as you have so much to do. Some people are just commenting and responding without have anything to do. Hope you enjoyes WWE. Please let us know about ur experience