Classic Comedy - Caddyshack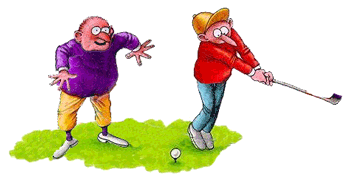 Asheville, North Carolina
July 21, 2016 6:18pm CST
Caddyshack came out in the theaters on July 25, 1980. It was ranked at number 71 on the American Film Institute's list of the funniest American comedies. On the cast were some pretty iconic comedians like Chevy Chase, Bill Murray and Rodney Dangerfield. The whole movie basically takes place on a golf course. What I think many of us remember most about the movie was the pesky dancing gopher and hapless groundskeeper Carl Spakler's (played by the usual deadpan Bill Murray) attempt to destroy it. The soundtrack included four catchy songs performed by Kenny Loggins, the most memorable being "I'm Alright" which I shared below. Do you remember this movie?

kenny loggins im alright caddyshack music video
8 responses

• Los Angeles, California
22 Jul 16
And then there was Caddyshack II.

• Asheville, North Carolina
22 Jul 16
If I remember correctly, that one was terrible.


• Asheville, North Carolina
25 Jul 16
I forgot how cool that song was too.

• Roseburg, Oregon
22 Jul 16
No sorry I do not remember that movie.

• Asheville, North Carolina
22 Jul 16
It was pretty popular at the time.

• United States
21 Jul 16
Yes,I do remember this well.It was a good one.I love kenny loggins with messina

• United States
21 Jul 16
I remember that movie and really enjoy the song too.

• Banks, Oregon
21 Jul 16
Great choice one of my favorite funny movies lol.

• Asheville, North Carolina
21 Jul 16
I haven't seen it for a very long time but watching the video brought all the silliness back.

• United States
22 Jul 16
yes ma'am, i recall the movie :) hope yer happy coz now that songs' gonna be stuck'n my head with visions 'f that danged gopher dancin' bout whilst i try to snag me some slumber

hey, wonder if'n i played that outdoors if'n the gophers which've returned here'd bust a move?