Boom! Boom! Boom Boom Boom!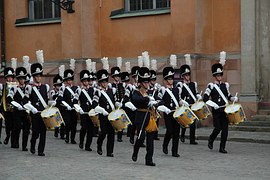 United States
July 23, 2016 6:40pm CST
I was watching an episode of "Suits" last night, with the sounds of the carnival in the background. And then I got distracted from the TV because of some large noise. I couldn't figure out what it was. So I paused the TV, got out of my seat and went to the window. And there, coming up from the very front of our building, was a police car, lights blaring, followed by a marching band! The sound I heard at first was just the drums. I think they were trying to get everyone's attention. Just as the band came in view of the carnival, they began to play music. And they sounded great! Following the band, was the Statue of Saint Mary, the mother of Jesus. All the people following her statue held a candle in their hands, so the sight of all those people (40 or 50 at least) was gorgeous! They marched around the carnival and the band played a few tunes and then they marched out to one of the main streets to go somewhere else. My nephew thinks the big fireworks display is tomorrow night. I'll be ready. Every night this week, however, someone in the neighborhood has sent up small fireworks displays for all of us in the area and the people at the carnival. It will be fun to see those fireworks up close. I'll try to get something on my camera. -Claudia- image from pixabay
5 responses


• United States
25 Jul 16
Tonight was the end of the feast and the band came around again. They marched for blocks and blocks and I could hear them for the longest time! It was just great!

• United States
23 Jul 16
You had a lovely sight to see! Yes, hopefully you will get a few photos of the fireworks!

• United States
24 Jul 16
I should be able to! Once they start, at least I'll know where the point the camera! lol

• Green Bay, Wisconsin
24 Jul 16


• Bunbury, Australia
24 Jul 16
What a lovely lot of free entertainment you are getting while the carnival is there.