The caste menace....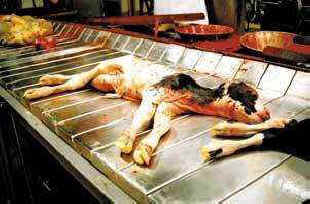 Hyderabad, India
July 24, 2016 8:12pm CST
It is very unfortunate that whenever any crime takes place and the culprit is arrested and punished the opposition parties in India make a big protest over the issues denouncing the action of the Government. They generously and pleasingly attribute the term 'DALIT' (caste) to the culprit and make a hue and cry over the issue. If 'been eating is banned in India", and if any woman lodges a complaint against an M.L. A 's attempt of mowing her down, if any student commits suicide in any university hostel they immediately attribute the term DALIT and try to defame the Government with statement 'the Government is harassing the DALIT" When some people have disobeyed and openly flouted the orders of Government on the beef ban they were punished. But, the opposition used the word DALIT for the law breakers and started blaming the Government. Are the DALITs above law? Another lady, when she made a complaint to the M.L.A about the power shortage in her locality, the M.L.A. Amanatullah khan tried to mow her down as per the FIR filed. But, the Delhi chief Minister says 'DALITS are being sent to jail by Modiji (the Prime Minister of India) knowing pretty well that MUSLIMS ARE NOT DALIT. NO CULPRIT OR LAW BREAKER IS BEING SPARED IN THE INDIAN PRIME MINISTER HON'BLE NARENDER MODIJI. THIS IS WHAT INDIA REQUIRES NOW. These fellows if they are so much craving for beef they do it along with PIGS in Pakistan. But, not in India..
1 response

• United Kingdom
25 Jul 16
So you don't have mcdonalds in India then?

• United States
25 Jul 16
They do, but the menu is completely different than what we're used to. No beef, no pork or pork byproducts. You can get chicken and fish, and I think some vegetarian burgers made with potatoes, peas, and carrots. Some of the international options for the 'familiar' fast food joints are pretty darn interesting.

• United States
25 Jul 16

McDonalds Menu in India may come as a bit of a surprise. Here is What You Can and Can't Get at McDonalds India.

• United Kingdom
25 Jul 16
@yukimori
It was a sort of joke to lead into another comment. About 6 years ago there was an Indian exchange trip betwen my god daughters school and an Indian one. She went there then the girl came here. On the second day EVERY girl on that trip went to the local macdonalds and were eating big macs and cheeseburgers etc. I tried to stop it (I was there) saying it was beef and they may not be used to it and it may not comply with their religion.....the more forward girls said to me they don't care they want to try it