Impulse Buy = Bad Idea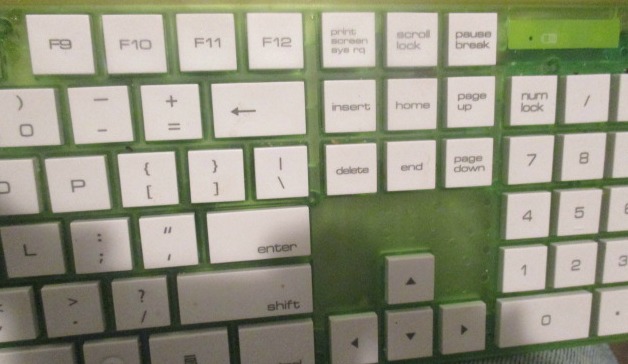 Midland, Michigan
July 27, 2016 10:50pm CST
Something I've needed for a while now is a new keyboard for my computer, but I wasn't going to get one yet until we got caught up on our bills. While going from one end of the store to the other I saw a display of colored keyboards that came in green, pink and blue. I stopped to admire them and walked on by. A few minutes later I went back and picked out a pretty green one since that's my favorite color. I needed a replacement because my old one got quite sticky from eating at my computer. I thought, wrongly, that this one would be exempt from the same problems since the keys are made differently. I've not even had it a lweekl anldl lalready several keys are stuck down. This is what i now have to deal with. At first it was only the L key, but for some reason now it's adding that letter wherever it desires. I have pipe cleaners to clean hard to reach places, it looks like I need to get at this before I give up. Just remembered I'm on firefox and therefore, grammarly isn't present. I left the three odd words there on purpose to show what it's doing to me, yikes!
8 responses


• Midland, Michigan
28 Jul 16
Then you must not eat near it either. What is it you are shaking out? Reminds me of shaking breadcrumbs out of a toaster.

• Atlanta, Georgia
28 Jul 16
@MarshaMusselman
I think it's dust, little fine stuff falls out. I don't eat at my computer.

• Midland, Michigan
29 Jul 16
@RubyHawk
I shouldn't eat at it, but I do. We are all rarely home at the same time for meals and even when we are we are usually in our own areas while eating. We should never have started that habit, it's not a good one that's for sure.


• Canada
28 Jul 16
Impulse buying is definitely not the way to go. I get away with it just often enough to stupidly continue doing it.

• Midland, Michigan
28 Jul 16
Exactly. When it's especially difficult to refrain oneself is when one thinks one needs a particular item that day instead of waiting as planned before.

• Canada
28 Jul 16
@MarshaMusselman
Loose change, a dollar store and boredom are a deadly combination.

• Midland, Michigan
28 Jul 16
@koopharper
Maybe so, but those weren't my problems at the time. Now, I just need to get some of that canned air to force the clean down deep, or switch back to my nastier keyboard which is easier to clean.


• Midland, Michigan
3 Aug 16
I'll have to look at the manufacturers website for clues on ways to clean below the keys. Until then, I've reverted back to my older keyboard which I cleaned up beforehand. At least those keys will pop out and back in easily. I'm also covering the keys when eating at my desktop to minimize it getting as bad as it was before.

• Midland, Michigan
28 Jul 16
It's not their fault it's now faulty. I'm the one ate with the keyboard showing without putting a napkin over the keys. I need to get more of the spray to clean the keys and see if that will take care of it for me.

• Charlotte, North Carolina
28 Jul 16
Oh, those sticky keys are so annoying! Hope it all works out-

• United States
28 Jul 16
yepperz, those keyboards dislike goo'n crumbs, though 'tis easy to clean'n a desktop keyboard. i used to take the one's't the hospital 'part 'bout once a week...ick 'n ew!

• United States
28 Jul 16
I had to go back up to see the mistakes. I am one of those who reads right through them---like that thing that comes through facebook a lot where all of the letters in the words are mixed up but it can still be read just as freely as if they are all right.