Have you noticed this about Trump?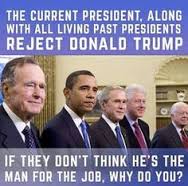 Manila, Philippines
July 27, 2016 11:57pm CST
Donald Trump is running for US Presidency, I don't particularly like the guy, but I guess I am not the only one. There are 5 living presidents in the US, two republicans (Bush the father, and Bush the son) and three democrats (Jimmy Carter, Bill Clinton, and Barack Obama) None of these former presidents endorsed Donald Trump for the presidency. If people who have been in the office, will not endorse Trump to take over, and if they think Trump is not fit for office, why will you think otherwise? I am just thinking out loud. It's your right to disagree, but 5 former presidents, who are from both sides (Republicans and Democrats), think Trump is not the guy, so do I. If you are on the side of Trump, can you tell me why?
3 responses

• Australia
12 Aug 16
These presidential cry-babies should be the ones to answer the questions: "Why is America $21 Trillion in debt during their presidency?" "Where are all tax-payers' money going?" One example is, $150 billion+ $400 million ransom deal with Iran. "Why are these failed presidents, with dishonest media, in bed with Hillary Clinton? etc... etc... etc... The news are very telling.


• Australia
2 Sep 16
@anniepa
These past presidents, with the exception of Ronald Reagan, have failed to prosper USA and the legal American citizens. So, what these arrogants think about the smart people's choice of presidential GOP nominee, Donald Trump, holds no more value to the American people. They have sickened and wearied the legal citizens of USA. The nonPC truthful facts are very very telling ( I don't mean the mainstream biased media). We just need to know where to look and base our intelligently-informed decision from.

• United States
2 Sep 16
@everwonderwhy
We could have a separate discussion on the failed trickle-down economic policy of Ronald Reagan, but he's obviously not one of the five living Presidents who are smart enough to know Donald is not fit to be dog-catcher let alone the leader of the free world. I doubt that you've ever heard him speak or that you're aware of all the disgusting, hateful things he's done. He actually said he wouldn't rule out NUKING EUROPE. When speaking with an advisor about foreign policy he asked three times during one meeting why, since we HAVE nuclear weapons, we don't USE them. Nobody could possibly make an "intelligently-informed decision" to support a loose cannon like him.


• Dallas, Texas
28 Jul 16
I don't think Trump's fit to lead because he's an egotistical idiot. But I don't think Clinton's fit to lead because she's all flash and no substance. This is a situation of "no matter who wins, we lose." Because all the smart candidates lost because they didn't have what it took to win the people over. Trump and Clinton took advatange of the weaker crop this election season, but they wouldn't have made this far eight years ago or four years ago.

• Manila, Philippines
28 Jul 16
You know what we say in English, between two evils, we choose the less. Trump is an experienced businessman with no background in Politic. Hilary Clinton has a long background in politic, even if I take only the fact that she has been first lady and secretary of state, it's enough for me to vote for her. Yes, trump is advocating of changing the economy in US, he is exposing the government by explaining how they use money for less important things, but we have to understand that the thinking and the analysis of Trump is business. We are not about to run a company, we want to run a country. And again, no one succeed alone. Having so many formals officers against him is not an assurance. he will need someone to refer to, when he enter the oval room. And only another President can help him with that.

• Dallas, Texas
28 Jul 16
@chris2050
Hillary may have a background in politics, but what she really done to warrant the candidacy? Because her campaign seems to be:"Vote for me because I'm a woman. We already elected a 'first black president, now it's MY turn." Her campaign isn't about bettering America, it's about feeling good for the moment while manipulating history. And like you said, Trump is exposing the government's business practices, which cynics like me were aware of long before he decided to run, but like you said:"we're not about to run a business, but country..." But like I expressed here(link): I don't think Trump's in it to win it. And if he does, whelp he'd better learn how to play nice with others.

I've noticed that the Republican Party keeps doing crap that gets ripped to shreds and dragged through the mud by Liberal Media. It's almost like they're either...

• Manila, Philippines
28 Jul 16
@Hanyouyomi
I totally agree with you. but you see, somehow, the argument you are using against Hilary, can be use for Donald. Mrs Clinton is trying to appeal to the heart of people, "You voted already a black, you can vote a woman, you should vote ME" This is in a way what she has been doing so far, trying to take the place of the mother, trying to appeal for feminism, etc... Trump in the other side, is just doing the same thing, but in another another manner. he is trying to personify the average American, the one who is tired for Politic, the one who money to be used for him, the one who want to feel safe, the one who need a job. that's why the "everyday guy" feel more like trusting him instead of Hilary, and that's where things are hard, that's why both of them have always been having about 10% difference every time. But you see, if Trump make it to Presidency, it will be hard if he don't softened himself, because somehow, he will need those who have been in that office before in him, in making some decisions. And he don't look like any of them is his friend so far


• United States
2 Sep 16
I totally agree. This is totally unprecedented, five people who know what the job entails all also know Donald Trump cannot be trusted to do it. I personally voted for 3 of them and against 2 but for all the good and not so good (in my opinion) each of them did or didn't do I can say for sure I never felt that any of them could get us into WWIII on a whim or in the throes of a temper-tantrum. I never feared they'd start an "international incident" because they couldn't control their middle of the night "tweets" to foreign leaders, perhaps calling one of them or maybe one of their spouses a fat pig or something similar. Donald is SO not the guy and I don't think anyone here or anywhere else can really say he is and tell us "why". Great discussion!