Descendants of the Sun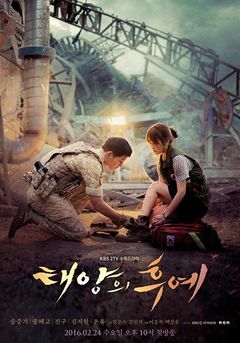 Philippines
July 28, 2016 11:11am CST
Synopsis This story tells of doctors stationed in the fictional war zone of Urk (Uruk), and follows the love story that develops between a surgeon (Kang Mo-yeon) and a special forces officer (Yoo Shi-jin), both elite in their respective fields. The story will track both their personal and professional struggles while exploring issues about the value of life. --Dramabeans This is the first Kdrama I watched that surpassed my expectation 100 times! It is not a typical Kdrama melodrama that will drown you in tears. What I love about this is it reflects the TRUE reality of dating, relationship, careers and societal impact. I hate super lovey-dovey love story and it's a breath of fresh air watching the depiction of Captain Yoo Si Jin and Kang Mo yeon's love story. I get the bantering because that's the GF/BF reality although I also like watching the seriousness of Sgt. & Lt.'s love storey. I like how it is not centered on chaebol crap that's typical of kdramas nowadays. I SOOOOOO recommend watching this because of the lightness/heavy drama balance that this drama attained. Annnnd it does not hurt that the actors are all good-looking. hahahha #relationshipgoals
5 responses

• Mangalore, India
29 Jul 16
I so agree with you! The drama was just so perfect! And the worst thing is that i am still so hung up on them.

• Philippines
29 Jul 16
I know right?! hahaha Im still in my SONG JONG KI phase. Im stalking the fandom of news about a 2nd season and so far they are trying to realine everyones schedule. hehe

• Mangalore, India
29 Jul 16
@XianLovesMe
Season 2 would be a dream come true! Since i can't date Jong ki oppa, I really hope that he gets together with Song Hye Kyu! They look so good together!

• Philippines
30 Jul 16
@Toohard_totalkto
hahaha we are shippers, indeed we are!! I've been a jong ki fan since Running man's early days and Sungkyungkwan Scandal. Innocent Man's the only melodrama I painstakingly watched even thou I HATE MELODRAMA just because of jong ki. hahaha. have you tried that one?


• Austin, Texas
18 Sep 16
Found it! It's on Netflix. Started watching it. It's interesting.



• Philippines
24 Jul 17
hopefully! but I will make an effort to be here regularly. haha

• Philippines
28 Jul 16
yes the premise is good and not your typical kdrama with the over the top drama that sucks up your soul and will leave you depressed for days. hehe. I seriously had this crazy grin on my face every time I finished an episode.