She keeps him coming back...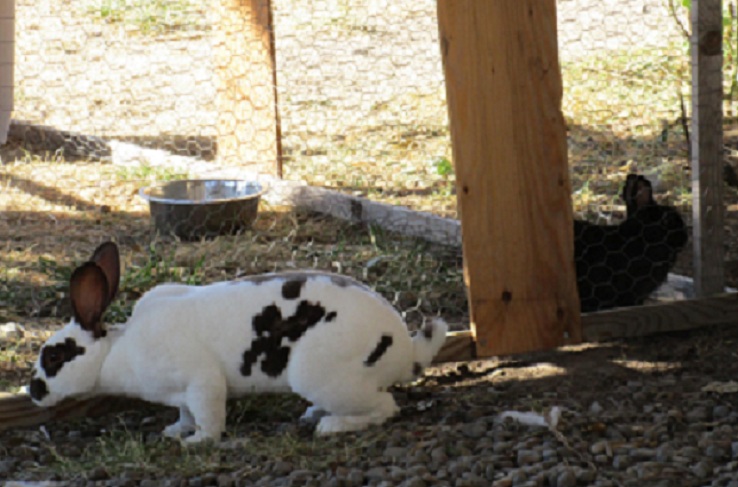 United States
July 28, 2016 11:35am CST
Generally when Marshmallow the rabbit gets loose in the backyard, pandemonium breaks out. We know he can slip through the gate to the front yard. We know he'll position himself under the back porch, juuuust out of reach. I think he likes to taunt us.

Yesterday, someone didn't latch Marshmallow's cage properly and he must've discovered how to push his door open. I don't blame him. When you're stuck in a cage with nothing to do, what else is there but to attempt a jail break? I didn't notice his escape until I'd put Ninja in the "Green Cage" (that's the name of our rabbit run). I'd just secured her in her new day quarters when I spotted the flash of white that is Marshmallow, under the porch. I was about to get angry at his wily escape when a strange thing happened: He hopped over to me. Well, it wasn't really
me
he was interested in. It was Ninja. She lured him in like a moth to a flame. I hung around for awhile, watching. Marshmallow would hop away to nibble on some rose bush leaves and then bound back to Ninja's cage. She'd get excited and start running circles, at which point he'd ignore her again. Looks like people aren't the
only
ones who play games when they're romantically interested...! So now I know I can safely let Marshmallow roam the backyard...as long as Ninja is within sight and smell. Because like many gals, she knows how to bring her fellow back!

10 responses


• United States
28 Jul 16
We had a lock on the cage for awhile, because our 1-year-old kept climbing into the cage. Eventually we got him to stop that, so we've been slack on putting the lock on. Though now that I know he won't leave the yard, I've been letting him have more freedom.

• United States
28 Jul 16
gigglin' :) yepperz, y'ave been usin' the wrong 'bait' all 'long :)

• United States
28 Jul 16
I remember some years back when we were raising meat rabbits, we ended up with a stray bunny in our yard. I think he'd been enticed over by our does. He must've gotten lost. Or maybe his owners set him loose. At any rate, after being unable to track down his wonders, we ended up keeping him. He was pretty friendly. So, yeah, female bunnies seem to be good bait!


• Los Angeles, California
28 Jul 16
Looks like Marshmallow wants to be a Dalmatian!

• Aurora, Missouri
4 Aug 16
LMAO! Sounds like some young people I know! Tell him or show him that she is around and you never get rid of him! All to catch a glimpse of her! Glad you have found a way to "wrangle" him out in the open so you can catch him again!





• United States
4 Aug 16
He's been a lot easier to catch now. In fact, he'll often hop right up to us or follow us around the yard. Funny what happens when you give a creature some freedom...though it probably helps that he's too big to squeeze out of any of the holes in our fence....

• Aurora, Missouri
5 Aug 16
@Genipher
LOL! Yes, set it free... if it comes back to you, it is yours... if it doesn't, it never was yours to begin with!

• United States
9 Aug 16
@DaddyEvil
Hey, I bought him fair and square! He's
mine!




• Northampton, England
29 Jul 16
We are bunny sitting for our neighbours. I was very proud that I managed to round them up and get them in their hutch in just a couple of minutes yesterday.


• Dallas, Texas
29 Jul 16
Huh, I thouught Ninja was a dude... Whelp, that changes a few aspects of my story idea... And she has the wanted attention of a male bunny named Marshmellow... I think I'm done here...

• Dallas, Texas
30 Jul 16
@Genipher
Well like I expressed in explaining my idea that your daughter's desire to be a bunny inspired, a female ninja is referred to as a "kunoichi," which the female bunny in this concept of mine will become. Then there's the fact that Ninja according to you has Marshellow's attention... Now I want you do me a favor and imagine a ninja dressed bunny named "Marshellow." Does that sound silly to you?

• Charlotte, North Carolina
28 Jul 16
Interesting how they act, isn't it?

• Canada
28 Jul 16
Won't work for us. Both our miniature rabbits are females. They enjoy each other's company anyway.