We're Famous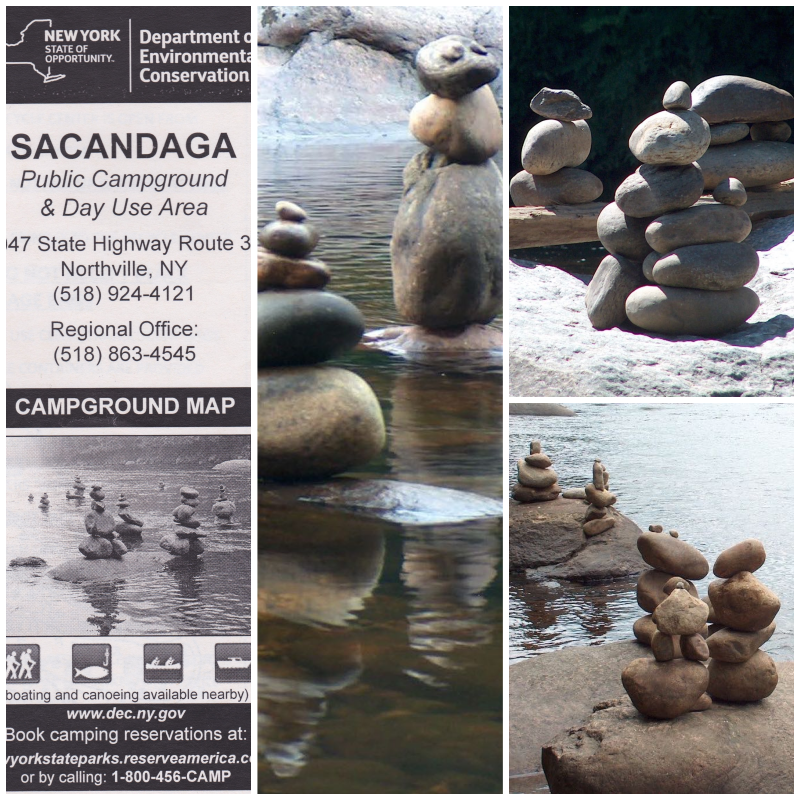 Canada
July 30, 2016 9:12am CST
While unpacking I found this brochure (photo on the left) that was given to us when we signed into the campground this summer. It got put in my stash in the car and I never looked at it until I got home. Notice the photo? Years ago my youngest son started building inuksuks in the river that we camp on. He was studying Native Canadians in school that past year. You just pick up rocks and balance them one on top of another. that is if you are playing...the real inuksuks are massively huge and used for directions back in the day when the natives were the only living beings in the Americas. Soon all of us at CampInsanity were doing it. The first time we made them on a campsite that could be seen from all over the campground, a young boy came to our site and started throwing rocks at them. We told him they were our sculptures and asked him to leave. He came back with his "drunk dad" who started throwing rocks at them and refused to stop so Elaine and I got into the water in front of the sculptures. The drunk dad knew if he hit one of us he would be in big trouble so he and child left.... That memory reminds us what an idiot that dad was, we felt sorry for the child. From then on people would ask us about them, and would start building them on our site and on theirs. We had a bunch of teens one year who joined us and filled the river with much taller ones than we would ever make...laughing and enjoying the experience. All it takes is a good rain, the river rises and they fall down so we don't worry about anyone getting hurt. One year when we had car trouble, a ranger escorted the guy from AAA to get our car unlocked at our campsite. He noticed our inuksuks in the river and said his boss from Albany was there that day and could he bring him over to see this... The boss was awed and ask for permission to photograph them and permission to use the photos in DEC (Department Of Environmental Conservation) programs and brochures. We gave him permission and was told later by another ranger that she had seen the photos in a camp employees meeting. This year when we got to camp a friend said she had seen inuksuks in the river and thought we were here. But no, not yet so someone else was making them. We were so proud to hear that. Now seeing the brochure, we know why...

From Wikipedia, the free encyclopedia Jump to: navigation, search For the Canadian wireless network, see Inukshuk Wireless Partnership. An inuksuk at Igloolik, Nunavut, Canada An inuksuk (plural inuksuit) [1] (from the Inuktitut: ?????, plural ??????; alte
8 responses


• Canada
30 Jul 16
Thanks so much. My youngest is an artist who is forced to work in business to pay the bills.

• El Paso, Texas
30 Jul 16
I remember the post you wrote on Gather about these. You had so many photos with that post. I still miss Gather.

• Canada
30 Jul 16
I miss posting more photos too but I did figure out how to make a collage.


• Canada
30 Jul 16
No we don't have to knock them down but when we had the site on the point where we had close neighbors, if there were small children with the neighbors we did knock them down for their safety before we left. This year the only neighbor had older kids and we figured they would knock them down as soon as we left

But if they did we didn't see it.....


• United Kingdom
30 Jul 16


• Canada
2 Aug 16
We knew we could not change his drunk attitude so we did what we had to do....and it worked.

• United States
31 Jul 16
y'ave got more patience with drunken, rude folks than me, hon. i'd prolly got 'nto a fist fight with him'n then'd the need fer bail money. i feel fer that young'un 's well, lets hope that he didn't turn out the same. how delightful that they used yer lil inuksuks'n their brochures 'n such :) see?? y'all started a trend, 'n hopefully folks got educated 'bout 'em 'n how they were used'n the past.

• Canada
1 Aug 16
I was so happy to see the photo on the brochure. It made my day...

• United States
30 Jul 16
Wow, you are famous and I know you, I am famous by association lol

• United States
30 Jul 16
That is just wonderful. What fun it has to be to create those! Amazing to view those works of art!

• Canada
1 Aug 16
Thank you, we think of them as a work of art. So fun to do and entertaining to all.