Will you brush your teeth at first?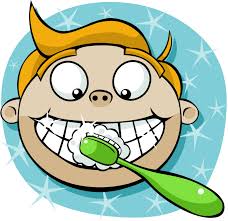 Guangzhou, China
July 30, 2016 8:40pm CST
This morning after I woke up, I turned on my computer and used it. After a while, my husband peeled a peach and handed to me. I said I didn't brush the teeth yet but he said it's alright to have the peach at first and then brush the teeth. Alright, this is not like my habit but this time I did it as an exception.
10 responses

• United States
31 Jul 16
I can't sit down any where without bushing my teeth other than the toilet. I hit the bathroom first thing every morning. If I don't have to pee it's my tooth brush in my hand. I could not eat ever like that.

• United States
31 Jul 16

• United States
31 Jul 16
I never eat before I brush. I have to brush first when I wake up.

• United States
31 Jul 16
@youless
After you brush!


• Calgary, Alberta
31 Jul 16
I will not eat if I just woke up. Germs poop inside out mouths while we sleep. i will definitely need to gargle mouthwash for that scientific fact.


• Italy
31 Jul 16
Teeth are clean but vulnerable after being brushed. So all the acid substances such as fruits or coffee will make more damage, as the layer protecting your teeth is thinned. I would never brush my teeth before eating because the mint left in my mouth will make everything taste like crap.

So actually you did good today.


• Italy
31 Jul 16
Of course. How did the peach taste like? I guess it didn't taste like morning breath or such.


• Hangzhou, China
4 Aug 16
I admit that sometimes I do so as well. Eat first and then bruth my teeth. It is ok if you feel lazy or what. Anyway I have already developed a habit of brushing my teeth after having each meal as well as getting up in the morning. My teeth are not very good and one tooth inside is decayed.


• Switzerland
31 Jul 16
I wash my mouth before breakfast and brush the teeth 15 minutes after. This is what my dentist suggested, you always have to brush your teeth after you eat, but not immediately after because the brushing mixed with the acidity of food can damage the teeth.

• Roseburg, Oregon
31 Jul 16
I love peeled peaces with whipped cream on them.