Donald a True Patriot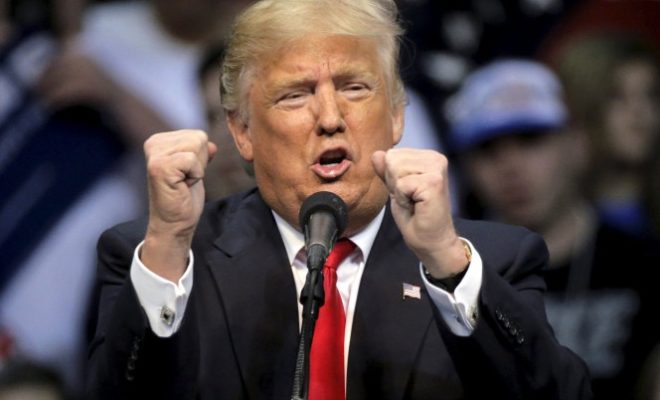 Hyderabad, India
July 31, 2016 12:08am CST
Many people both on home land and International made a hue and cry when Mr. Donald made a statement to deny entry to all Muslims into U.S. His Advisor Mr. Stephen has made it clear that his statement should be looked with geographical orientation than with religious orientation. Yes. he is exactly correct. One should clearly observe and understand that this statement of Mr. Donald has come out only after the TERRORIST ATTACK in San Bernardino, Everyone started picturized his image in a magnifying lens as if his statement is very critical against the religion Islam. His statement is only for a temporary shut-down but not aimed against any religion. His idea is only to ban the immigrants from the areas of the world which are known for weathering attacks of terrorism against U.S. His reactive statement might have come from the platform of a common man as a true patriot unmindful of the platform he spoke from and it does not require any interpretations in special convex lens. He is the true patriot whose President -ship the U.S is highly in need of There were no statements or remarks from any of the other contesting candidates on the above incidents of terrorism and kept themselves as cats-on-the-wall. These terrorists attack could not make their blood boil or shake their nerves. But, it is only Mr. Donald who reacted sharply at the terrorist attacks. To conclude, to be a leader one needs, dynamism, forcefulness from within, feeling of togetherness, decision making,uncompromising nature, daring, anger, calm, diplomacy, altruistic tendency, and philonthrophy but not philosophy and the embodiment of all these qualities is one and only Mr. Donald Trump. In my view the U.S needs him and I honestly urge and wish for his Victory..
9 responses

• Italy
31 Jul 16
I don't think banning immigration from Middle East will decrease terrorism. All the terrorists in Europe were European citizens, same in the US. The Orlando guy didn't even commit the slaughter in the name of IS, but because he was mad at gay people (he didn't accept he was gay himself). Trump says what people want to hear, and that's all you have to do during a campaign. Hopefully if he wins he'll do a good job. He did and said stupid things, but in the end it doesn't matter, Berlusconi used to be hated but he has been around for like 20 years.


• Hyderabad, India
1 Aug 16
The statistics speak only 5% illegal immigrants from Europe and Canada.

• Italy
1 Aug 16
@shivamani10
Most of those who immigrate illegaly come from poor or devastated (by war or government) countries, which is not the case of Europe and Canada, of course. But there's still a nice amount of muslims in the US (converted citizens, not just immigrants and their offspring) who may go crazy and radicalize.

• Moses Lake, Washington
31 Jul 16
I have lived with macho bullies. I walk the other way when I am near one. Trump has an illness and his mouth honestly shows that. A patriot walks the talk. He does not merely talk or in this case, rant.

• Eugene, Oregon
17 Jan 17
Or tweet ignorant, stupid things.


• United Kingdom
31 Jul 16
A true patriot or an utter d1ckhead...the people will decide....not you or me but american voters.

• United States
31 Jul 16
The media says a ban, but Mr. Trump stated that those coming to this country need to be fully vetted before being allowed to live in the USA. Taking the time to learn all about those from areas known for terror, before letting them live in the USA, is to protect innocent lives. I agree that the U.S. does need someone who really cares to protect people of all races and religions who make their homes in the USA from terrorist attacks.

• Hyderabad, India
1 Aug 16
Even his idea of constructing a wall does not mean to send the Mexicans already settled in U.S back. He has not talked about that. He wants to restrict the fresh illegal immigrants.

• United States
1 Aug 16
@shivamani10
He just wants the laws of this country to be followed. It is as simple as that.

• New Delhi, India
31 Jul 16
@shivamani10
,If PM Narendra Modi says the same words as Trump about Muslims,our so called secular politicians would call him 'communal.'

• India
31 Jul 16
@else34
Hillary Clinton hates Trump slightly more than psuedo seculars hating Modi. Read the news carefully.

• Eugene, Oregon
17 Jan 17
He is a true fraud from the ground up.

• India
31 Jul 16
If Donald's proposal are implemented in the right manner; it will end terrorism NOT only in USA but elsewhere too. However, the so called ban is a mid way process. It isn't the only STEP to be taken. This ban will only ensure that new terrorists do not enter. What about radicalized people already there? You might consider this: It explains how should ban work. Just to add, his ban includes France too and France isn't Shariah country. Even Denmark wants to ban Muslim immigrants. Read the news carefully. Why only Trump to be hated?


• United States
31 Jul 16
No, that is not geographical orientation. Religion isn't geographical. His statement was of religious orientation and that's why it was controversial and made the country look silly.