Up Close and Personal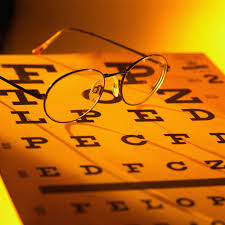 Saco, Maine
July 31, 2016 7:29am CST
I have to wear reading glasses now for any kind of close work that I do like reading, writing out checks, knitting, sewing, etc. But I rarely wear them when I'm housecleaing, because I always assume I don't have to. Then, when I get up from my chair or desk with them on and go to the sink or cupboard, the dirt, stains and dusty surfaces I've missed while cleaning jump right out at me. Not long ago, I took everything off the stove top and cleaned it well (or so I thought) with paper towels and an all-purpose surface cleaner. When I went back out to the kitchen later, I had my glasses on and noticed that I hadn't really made much of a dent at all in the grease that still clung to some spots, to the pans I leave out all the time, and the nearby counter. So I did it again, WITH the glasses on this time. It just happened again when I made breakfast. I got online first then went over to the sink to rinse my plate off and put it in the dish drainer to dry. I saw stains on the drainer that I had completely missed before. Years ago, whenever I'd do some housecleaning chore, my mother always came after me to assess my progress, and she'd point out to me the places I'd "missed." God rest her soul, but I'm sure glad she's not around now, as she'd be finding lots of them!

(Public Domain Image)
8 responses

• United States
31 Jul 16
Yes somehow Rachel, our sight gets dim when it comes to that..I have noticed things like that for myself too. Yes God rest your dear Mother Rachel.


• Saco, Maine
31 Jul 16
Yes, I miss her so much...this is one of those days when I would have cherished her company...


• United States
31 Jul 16
@Raelove
Understand that Rachel very much so.



• Saco, Maine
31 Jul 16
@TiarasOceanView
I know...




• United States
31 Jul 16
bless yer heart :) i felt that way when the hubs finally put my front door'n. all that light showed i'd not been's diligent 'n successful 't cleanin' the mirrors, picture frame glass, etc. 'twas horrifyin', lol.

• Saco, Maine
31 Jul 16
My mother used to say that she much preferred cleaning on bright sunny days for that reason.

• United States
31 Jul 16
@Raelove
i'd nothin' but'n o'erhead light that don't give out much light fer o'er 3 years, lol. that new door with its purty glass 'n him fixin' the window ('twas also covered...) sure 'twas'n eye opener!

• Saco, Maine
31 Jul 16


• Saco, Maine
31 Jul 16
I wish you luck with that. I hear it's not a bad procedure at all, so hopefully you'll be able to see better to clean better soon!

• Saco, Maine
31 Jul 16
@marlina
LOL...I know. That's how I feel when I notice something really bad that I missed because I wasn't wearing my glasses.

• Canada
31 Jul 16
I know what you mean, I have invisible bifocals, and I always swore that I never really needed the top portion of the prescription, which is very low, but the past 6 months or so I know that isn't the case. My eyes have changed and I should get in and get my eyes tested as I have a feeling that my prescription should be changed. Even the reading portion is fine for the computer, but if I have to read anything small (usually in print) I cannot do it.

• Saco, Maine
31 Jul 16
I can't afford prescription glasses, as I'd need bifocals now, too. I just keep cheap glasses in different strengths around: one pair for watching TV and driving (weak), one for computer (moderate), and one for close reading (strong). Still, there is some small print that I can't see at all without a magnifiying glass. It's so annoying.

• Saco, Maine
31 Jul 16

•
18 Oct 17
It sounds like you need to wear your glasses when cleaning or did I miss the whole point here?

• Saco, Maine
18 Oct 17
No, you didn't miss the point. When I moved out of my last apartment in 2015, I made a point of wearing the glasses to make sure I got the place spotless.

•
19 Oct 17
@Raelove
Rachel, that makes sense and I understand that one.

• United States
31 Jul 16
That's me too...I find that things look cleaner without my glasses. I've gotten into the habit now of keeping my glasses on while I do things around the house

• Saco, Maine
31 Jul 16
I've got to start doing that, too, it seems! lol

• United States
31 Jul 16
This happens with the elderly who do not have or wear glasses. Guests who come over see what they cannot. I always wear glasses now, so it's not an issue at my house, plus every two weeks a mother/son cleaning team go through the entire house.