Thumbelina Doll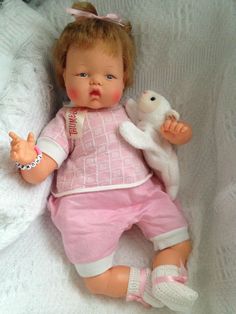 Daytona Beach, Florida
July 31, 2016 2:42pm CST
During the 60s Thumbelina dolls were very popular for little girls. They can still be found on line and bought on sites such as Ebay. However when I think back such a doll would seem a bit strange to me now. It was a doll with the face, arms, and legs made of soft plastic. They were squeezable soft to the touch. The body was made of soft material and this doll had a big plastic knob in her back. Kid you not and this would give me nightmares today but apparently I loved this doll. The idea was that when you turned the knob the doll would wiggle and move for awhile otherwise it just lay there. You know I can't tell you how many times I would turn that knob but the doll was with me constantly. I even had a baby carriage for her. It was a bit uncomfortable to hold her next to me with that knob back there but for a little girl love is love. Just don't buy that doll for me today. Is there anyone who had such a doll?
2 responses

•
2 Feb
I remember the doll but never had one. I grew up on Barbie and Ken.

• United States
31 Jul 16
My girls had this and other dolls.What a shame that they did not keep them.