Gift items for free..

United States
August 1, 2016 4:36pm CST
I went to pick up some pills for my neighbor with my card. I get $60 free every month. My pharmacist told me about a bathing kit with Aveno bath supplies. full sized bottles for $23 I am getting four of them to hold for Christmas gifts. That will be so nice for me. I am going to put together a care package of ointments and stuff all free and gift them as well. You know those things can be expensive. One I am getting tomorrow the others each month. They use to give me $65 now I see today I have $60 My neighbor gave me another huge roll of toilet tissue. That was the one thing I did not need to purchase for last month or this month. I put in an order for her tooth paste for next month as well. It's nice when we barter lol. How is your day going? It's pretty nice outside for a change.
9 responses

• Boise, Idaho
1 Aug 16
Ghee, I wish I was on your gift giving list. LOL I have been rather low on toilet tissue since we don't get groceries from Walmart anymore. The price at the store close here is putty expensive. I like to have plenty on hand and I don't now. Shelf is bare. I used to have it full. It was so cool out last night I had to close the window. Really nice for a change.

• United States
2 Aug 16
If it were not so big i would send you one. Shipping has gone up. over here.

• Boise, Idaho
2 Aug 16
@sharon6345
....That's nice of you. I think it may have gone up all over then.

• Toronto, Ontario
2 Aug 16
I haven't Done much. I went to walmart and it was nuts. People are so rude and ignorant.

• Philippines
1 Aug 16
You have good neighbours.

• United States
1 Aug 16
She really is good to me.

• Philippines
2 Aug 16
Day just started for me. Only 8am here in Manila and I'm just starting to go over my notifications and start reading the posts of my friends here in myLot. No specific plans for the day except running errands to my banks.

• United States
2 Aug 16
That means your going to be busy today.

• Philippines
2 Aug 16
@sharon6345
or, I'll end up lining up for a long time in these banks and those are the only things that I get to accomplish!


• United States
2 Aug 16
@allen0187
That does not sound good at all. sorry to hear that.


• Genova, Italy
1 Aug 16
Excuse me if I dare to ask a question: but how much money you have to spend before such shops do these gifts, to bestow such sums?

• United States
1 Aug 16
There is no amount to spend. The amount is given on a card to shop with each month.

• United States
2 Aug 16
I don't remember - why/how do you get a $60 card each month?

• United States
1 Aug 16
That's a good exchange barter, glad it works out for you two!

• Roseburg, Oregon
1 Aug 16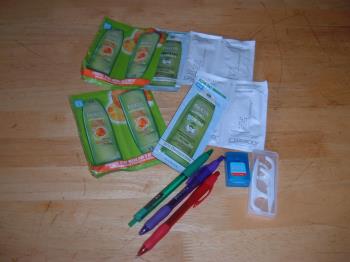 It is hot here and we are staying in until it cools down. I go to all of the free sites and get stuff for free every week. apicture of some free stuff I got.

• United States
2 Aug 16
It's one way to save some money.

• United States
2 Aug 16
Yes I would have to agree. I love it as well.