Anyone Remember Refrigerator Cookies?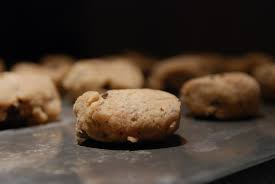 Saco, Maine
August 2, 2016 12:58pm CST
My good MyLot friend @amadeo (Alfredo) mentioned making cookies today, and this reminded me of when my mother used to make refrigerator cookies. For those of you who don't know what those are, there's no real mystery behind it. It's just a way of making cookie dough that you can refrigerate or freeze and use up just what you want of whenever you feel like making them. The preshaped rolls of cookie dough sold in stores today are somewhat reminiscent of that, but actual refrigerator cookies were a bit different. Unlike that type of premade dough, which is soft, this dough was very dense and stiff, which made it easy to roll and wrap in waxed paper. As it cooled, it got even stiffer, so it was really easy to slice off neat pieces and place them on cookie sheets to bake. I believe my mother even had a cookbook with a recipe specifically designed to make refrigerator cookies, and, once baked, they looked a lot like the cookies in this free photo I found online. I remember that they didn't taste very sweet, and didn't spread much like some cookie doughs do. As I recall, it was an easy way to have the dough on hand at all times without having to mix up a new batch each time. I think I'll put that on my list of fall projects: Make refrigerator cookie dough! (Public Domain Image)
9 responses

• United States
2 Aug 16
I think my mom made them too. Refrigerator cookies sure do sound good! Yes, when cooler weather rolls around, let's make some!

• Pittsburgh, Pennsylvania
2 Aug 16
@i
will make some too with my neighbor when she comes to watch the football games on my TV! Hugs to you great friend! And Molly, too!

• Saco, Maine
2 Aug 16
Yes, let's! I remember my mother sometimes putting raisins in hers. They do sound good. I have had a craving for cookies, but not those pathetic things sold in stores that taste like chemicals.

• Malaysia
2 Aug 16
This is the first time I heard of refrigerator cookies, it sounds interesting to me. I am still a beginner at baking, perhaps I will search more about refrigerator cookies, and see if I can make one too. Enjoy your fall projects!



• Saco, Maine
2 Aug 16
Thanks. Here's a link that might be helpful to you...

During the late 1920s and 1930s, my Grandma Myers baked these cookies in the oven of her wood stove.

• Los Angeles, California
2 Aug 16
Yes, my mother would make cookie dough by scratch that could be rolled and put in the fridge for later baking.

• Saco, Maine
2 Aug 16
It's very convenient, I think, for when you have time to mix the dough up but not to actually use it.

• United States
2 Aug 16
used to make 'em lots 'round here when they young'uns were growin'. sadly, i found that gluten free cookie dough doesn't set'p that way. put the schtuff'n the freezer 'n ya still can't slice't....kinda makes ya wonder, lol.

• Saco, Maine
2 Aug 16
I'm not concerned about gluten. And yes, I wonder about lots of things...

• United States
2 Aug 16
@Raelove
lucky gal :) i've celiac disease, so can't partake'n such without serious issues.

• Saco, Maine
2 Aug 16
@crazyhorseladycx
Yes. I did know that gluten was a no-no for folks with celiac. That's legitimate. But so many others think that it's now bad for everyone, which it is not.


• Pittsburgh, Pennsylvania
2 Aug 16
@raelove
remember my mom always made the dough up to a few days ahead for nut rolls and other baking but don't remember if she made cookies that way. Couldn't they have added sugar to make them sweeter or does that do something with the freezing?

• Saco, Maine
2 Aug 16
Oh, they did contain sugar, but not as much as some of the cookies today do. They were very plain cookies, but very good.

• Pittsburgh, Pennsylvania
2 Aug 16
@Raelove
I don't remember how sweet the cookies of my childhood were., But did agree cookies today are very sweet! I read recipes and they want two cups of sugar in some cookies i have seen, and i think the person eating one is bouund fo lose all their teeth if they don't brush enough!

• Saco, Maine
2 Aug 16
@Marty1
Lol, or develop diabetes in the bargain!


• Boise, Idaho
2 Aug 16
I remember cookies done in the frig too. I guess dough can last in the frig for quite a while.

• Saco, Maine
2 Aug 16
Yes, and even longer in the freezer.

• Boise, Idaho
2 Aug 16
@Raelove
....That's what I meant. Sorry.

• Saco, Maine
2 Aug 16

• United States
2 Aug 16
No I had actually not heard of that. But have you heard of potato candy it is a bit sweet but it is good.

• Saco, Maine
2 Aug 16
Yes, I have heard of it, but have never tried it.

• United States
2 Aug 16

•
3 Aug 16
Haven't tried eating one. You gave me an idea. My sister bakes. I'll ask my sister to make one of those refrigerator cookies.

• United States
2 Aug 16
My mom did not like cookies. I do not have memories of making cookies with her. On the other hand, my sister is nine years older than I am, yes, the one I take to the doctor. Once in a while I would be allowed to sleep over after she was married. We would make refrigerator cookies. We would divide the dough into six different rolls and each roll would have another flavor.

• Saco, Maine
2 Aug 16
Sounds like fun. That's the beauty of this dough. You can flavor it the way you want and always have some on hand.