I Want This Food When I Get Home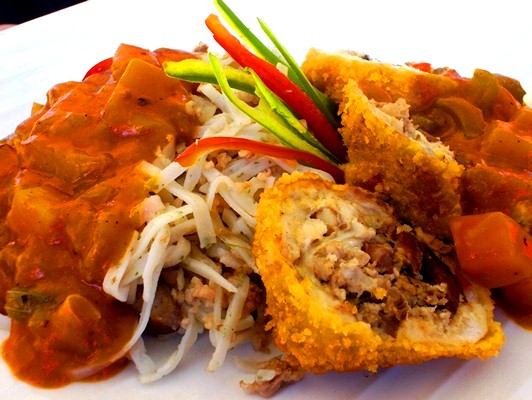 Philippines
August 3, 2016 4:44am CST
Th dish is crunchy fried chicken and the noodles with the juicy taste. I'm going home now and I saw this photo in my file and I am now dreaming to have this for my dinner. I know, its for breakfast but I think I can consider the food for tonight. The craving just come to my taste buds. So I guess I have some assignment in house when i get home. I will be the cook later.
10 responses

• Philippines
3 Aug 16
That's nice. Your wife and children will surely love it too.

• Philippines
3 Aug 16
surely they will gonna love it, when it comes to fried chicken, everybody love it.


• Philippines
3 Aug 16
cucumber salad, sounds new to me, and really sounds delicious.

• Cagayan De Oro, Philippines
3 Aug 16
@ilocosboy
just add some vinegar, a pinch of salt, pinch of sugar, tomatoes, onion and cucumber and it is really a very good and delicious salad.

• Philippines
4 Aug 16
@ida123
that cucumber salad goes well with fried, grilled and roasted food. same with atchara (pickled green papaya)



• Philippines
4 Aug 16
If I name this it would: Crunchy Fried Chicken In White Veggie Noodles. No name yet he he.

• Singapore, Singapore
4 Aug 16
@ilocosboy
ahahah! I thought this is a famous food somewhere in Philippines.

• Philippines
3 Aug 16
Oh, that sounds yummy dish for dinner. Enjoy your dinner with your family.



• Hangzhou, China
3 Aug 16
It looks very delicious and rich breakfast. I love fried chicken and some other fried food. They taste good. Today we went to the big mall for shopping and had our lunch in the mall. We ordered a lot of food and we ate up all of the food. Of course, it is no cheap at all, but it is worth it. We don't need to come back to cook and we can also enjoy the good atmosphere there.

• Philippines
3 Aug 16
oh well it is really a craving food.

• Philippines
4 Aug 16
where can i order that crunchy fried chicken with noodles?

• United States
3 Aug 16
Looks like a good choice for dinner to me!